How to make money on Sorare Guide - December 2021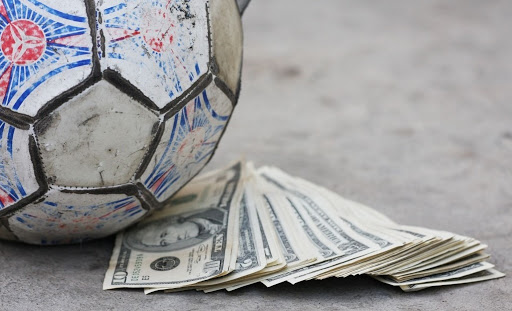 Take a quick look at the possible ways to make money on Sorare, the Fantasy Football platform.
Sorare is an NFT collectables platform that auctions digital football cards on the Ethereum (ETH) blockchain, the price of these collectables can vary on every day events just as a physical collectable in the real world. Although there is potential to make money on Sorare it's not just a matter of putting your money in and watching your investment grow.
This guide I have put together is from my own personal experience on Sorare. The aim is to show how it is possible to make money on Sorare and how to avoid the pit falls. It is not intended to be taken as financial advice.
Beating the game
Sorare organise a free to enter promotional game for its user base where they challenge you to 'beat the game' in simple terms you can enter 5 of your Rare cards into the global all star competition to gain ETH prizes and more cards.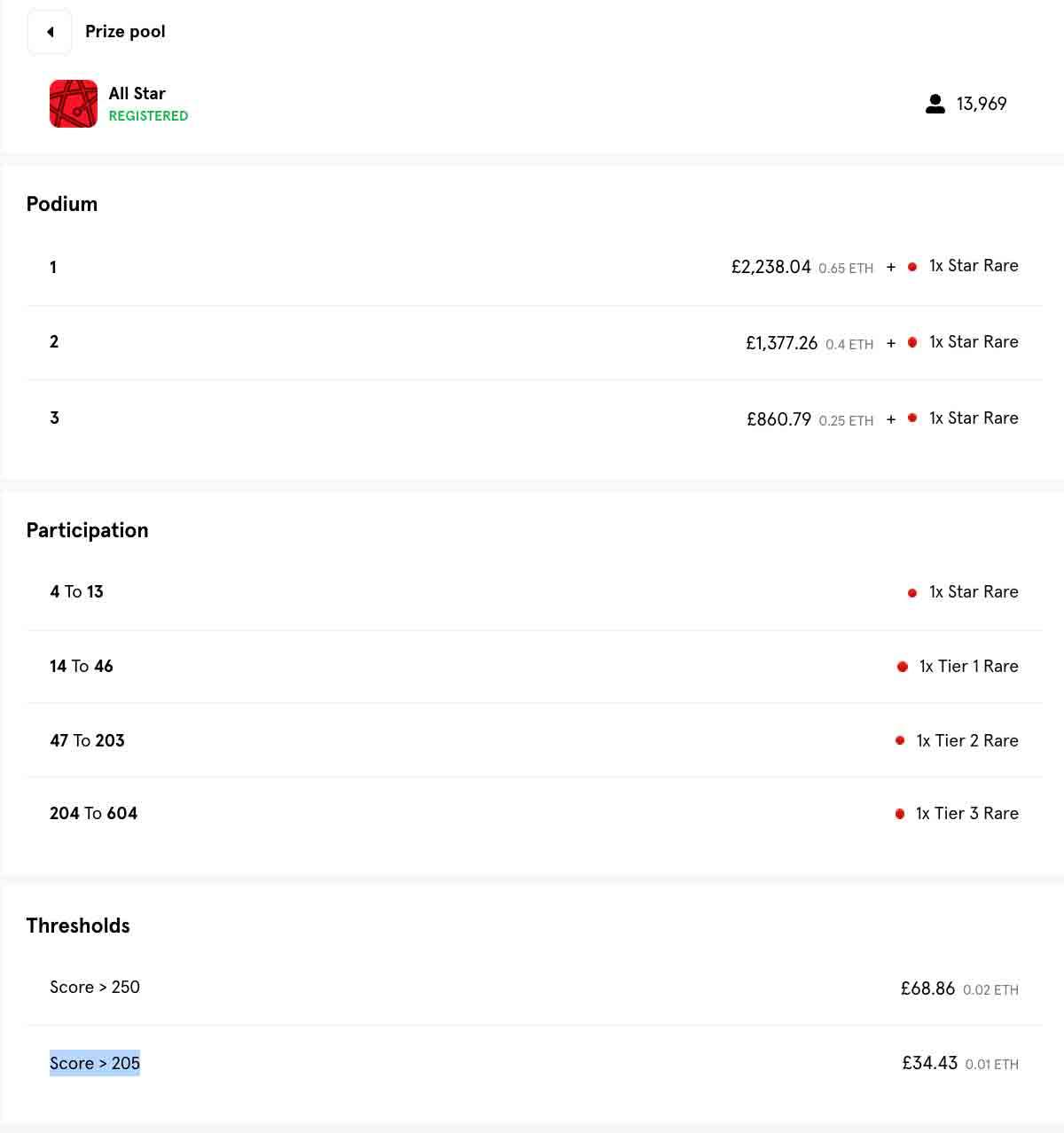 There are 2 thresholds to aim for *>205 points = 0.01 ETH*  *>250 points = 0.02 ETH* the amount of reward cards given out each week is dependant on the amount of cards that are playable in a given week. Below is an example of what's needed to have a chance.

(The use of common cards will be eliminated in August 2022)
Buy low, sell high
If you purchase something cheap and sell it for a higher price, you will make a profit. 
Through Sorare, you can buy, sell, and trade your cards with other managers through a secondary market. So far, my best profit has come from selling a Rare Lewandowski. My profit was £5800, I won it at auction for £1200. The only drawback is that every time he scores, my heart breaks a bit more. 
In contrast, I bought Carlos Vela pre-MLS season 2021, when he was tipped to have a great season coming back from injury. I thought I had gotten a great deal when I paid £1286 for him, but when the new season cards came out, I could get him for half that price. The card is still in my possession and I will wait and see how he performs next season. (Update: his value recovered)
SorareScout tip: do your research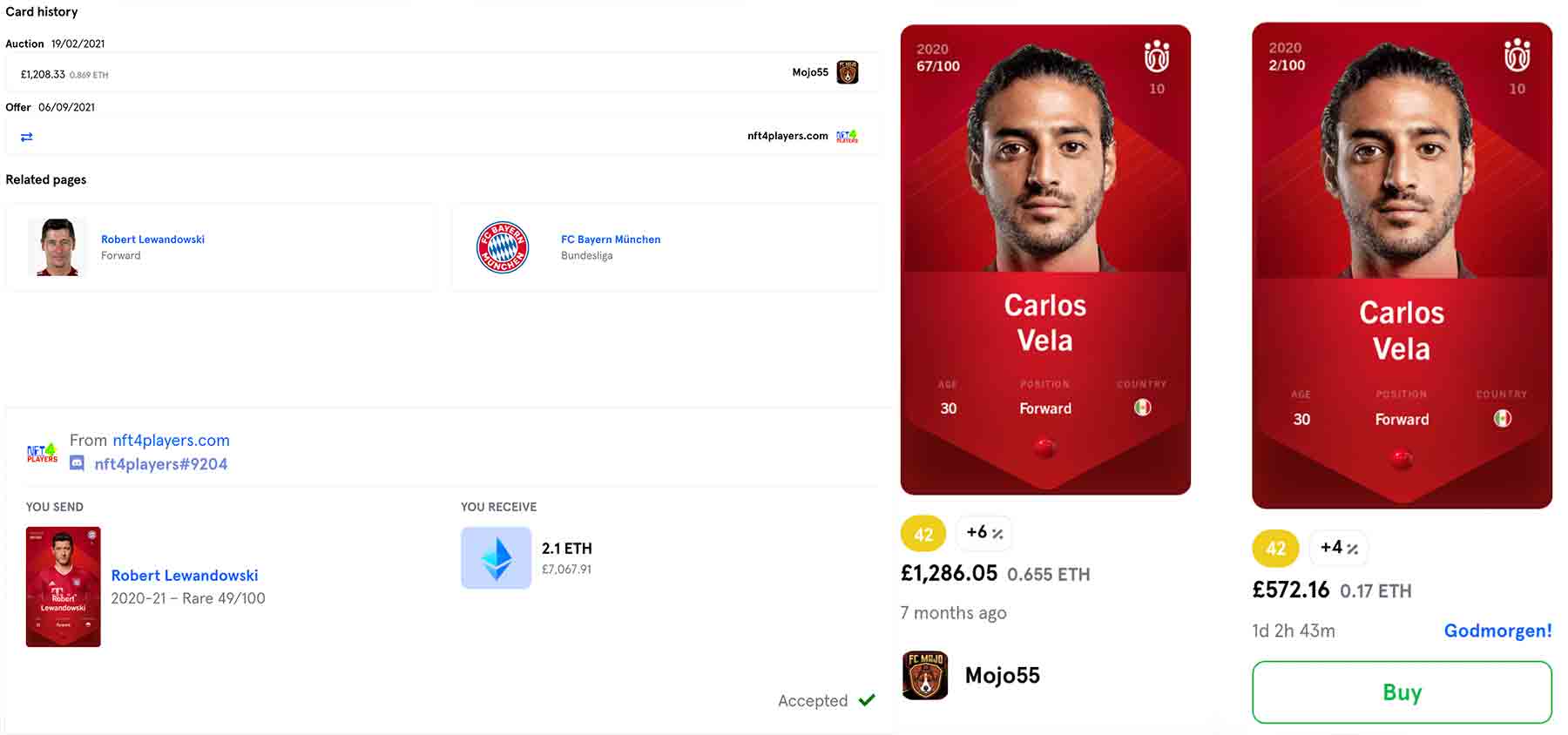 ---
The snowball strategy
My preferred way to make money on Sorare, but it is a slower route and takes patience and managerial skills.
While you're building your gallery and aiming for ETH rewards, you'll hopefully pick up a few reward cards along the way. My most successful card, according to Sorare data, is Carles Gil, so below is my example of how you can snowball your way to a tidy profit. 
Charles Gil (72/100)
Won 13/05/2021  (5 month into my Sorare experience)
12 competitions with rewards
11 cards earned
0.770 ETH earned 
Here you can see the team that entered to win Gil, followed by the cards that he has earned me.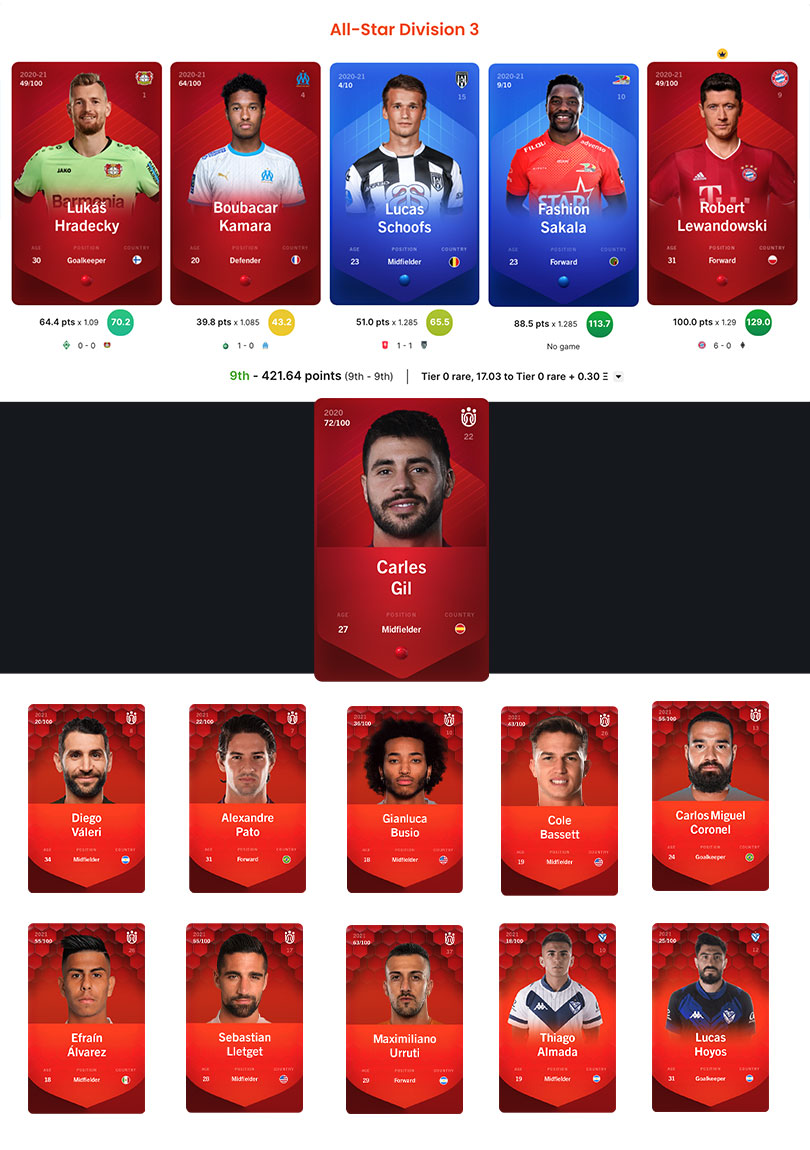 Not only have I made 0.770 ETH, but I have assembled a team for Champions America that has the potential to earn even more rewards, creating a much larger snowball. Alternatively, I could simply sell for profit.
---
The growth of the game
Whilst your team is earning you rewards you ideally want them to be increasing in value at the same time.
As more and more people join the platform we have seen an increased demand for cards (look at the graph below with the number of users holding varying amounts of cards and how it has grown in the space of 6 months).


The exponential growth of the platform would suggest cards become increasingly more desirable as demand outweighs supply, good SO5 scorers are always sought after and there is always an opportunity to make a tidy profit if you do your homework.
---
Scout, scout and SorareScout
To get the most out of Sorare you need to put in more time, which means lots of scouting. It is imperative to be aware of the next big transfer, to be on the lookout for the next Wonderkid, to study injuries, and to manage your cards well.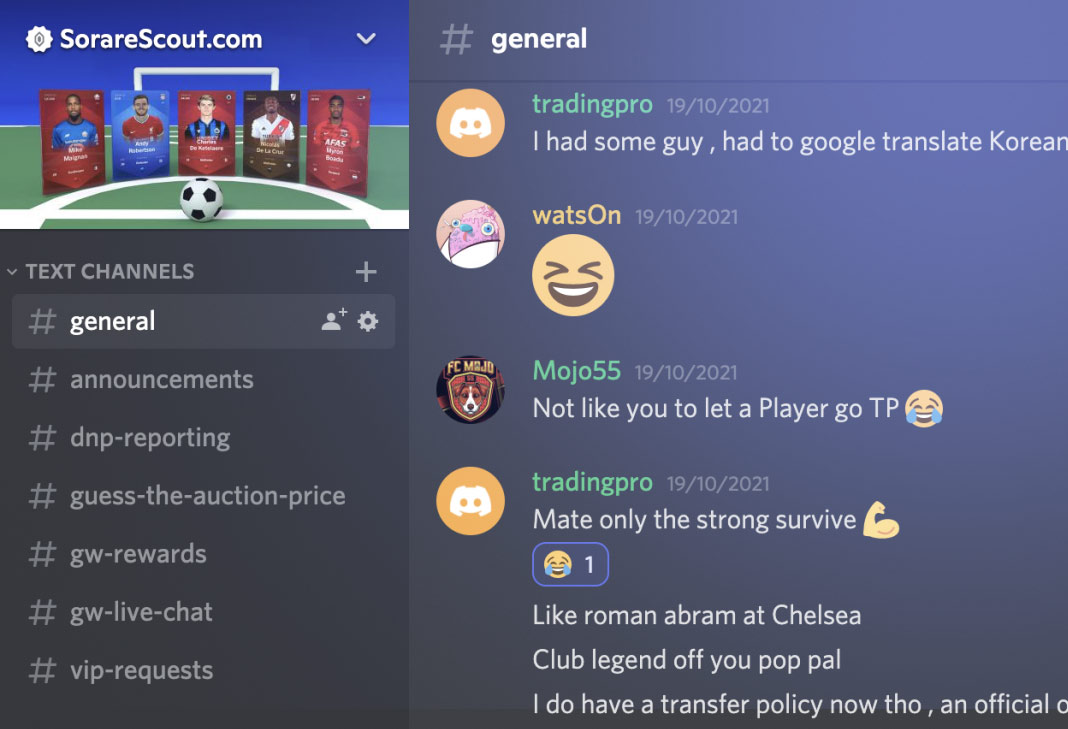 Here at SorareScout HQ we have been making strides to create useful resources that  you can get a head start.
SorareScout resources
---
Conclusion
With Sorare you can buy, sell, and trade digital football cards, as well as participate in a fantasy football competition with generous rewards. If you know your football, you put in the time and you do the research, then there is every chance you can make money on Sorare. For me, the game play and collecting outweigh the profitability – I have traded, bought, and sold on Sorare, but I have not withdrawn a penny over 11 months. At some point, I'd like to sell enough cards to recoup my initial investment, effectively playing for free. So far, I have enjoyed my experience with Sorare and kept my budget within my means. I believe this is the key to success when you're playing Sorare.
Special Sign-Up Offer
New Player Deal - Sign Up to Sorare now through us & Get a Free Card & VIP Access after 5 cards bought on auction.
Sign Up To Sorare Now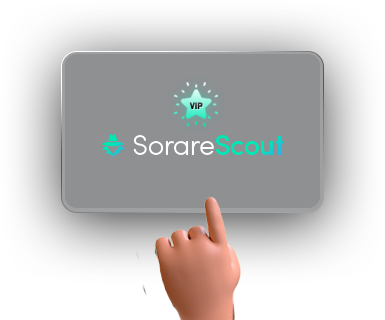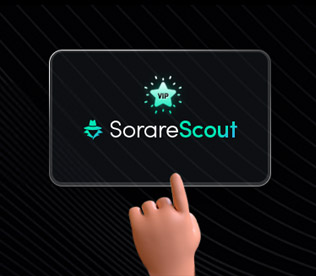 The content on this site is funded by the Sorare Affiliation platform. If you sign-up or refer a friend please consider doing so through our site. As a thank you will reach VIP status.
Read More About VIP Access