What is Sorare | The Ultimate 2022 Guide to Sorare Fantasy Football | Free Sign Up Bonus
Last updated: April 2022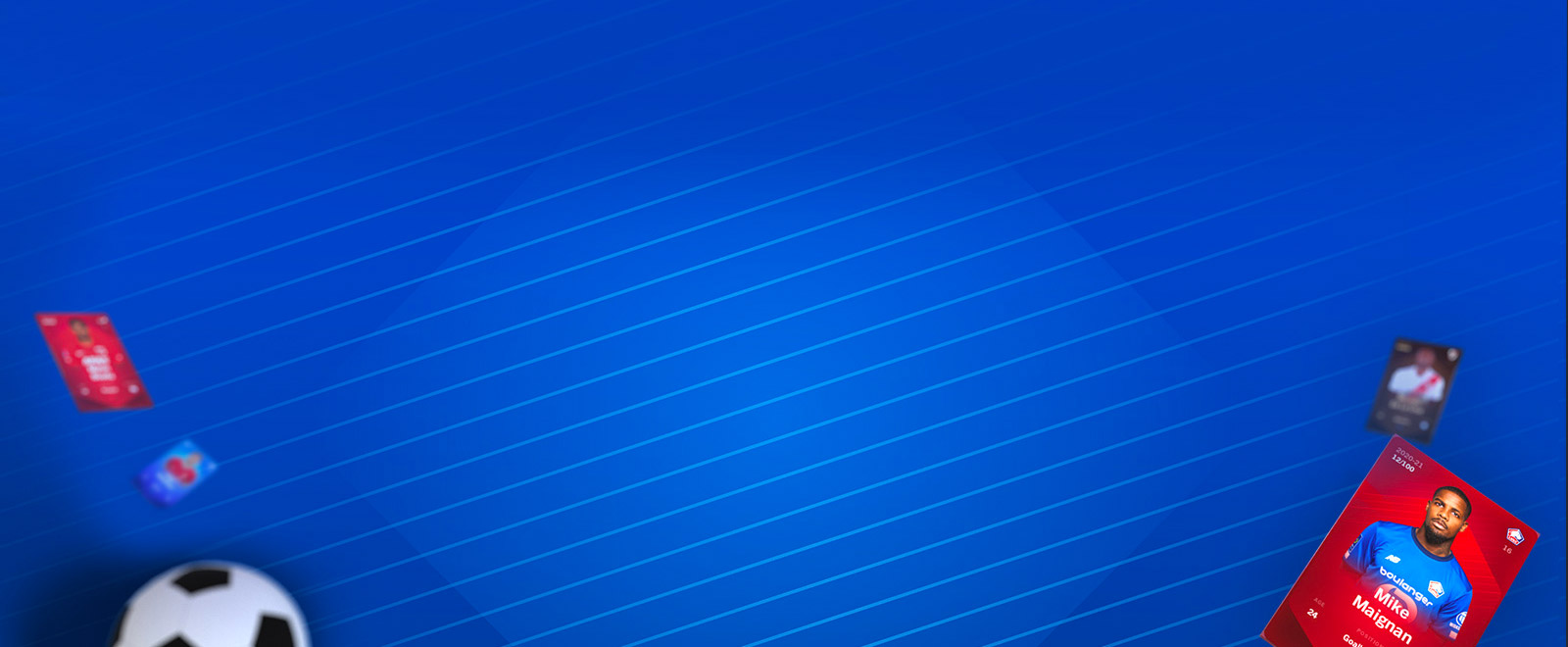 Want a free Sorare card when you sign up to play? Use our Sorare sign up link to win a free Limited edition card when you purchase 5 players from the "new signings" auction area (of any value) on the game.
Sorare Sign Up Bonus
Do you want a free Sorare card when you sign up? We offer a Sorare sign up referral that not only rewards you with a free card when you purchase 5 players (of any value) from the 'new signings' auction area but also grants you access to our VIP discord server where we have players around the world available to assist you with your Sorare experience + monthly giveaways to boost your Sorare teams.
What is Sorare?
Sorare is a Blockchain fantasy football game where you can you buy, sell and trade digital football cards with the added bonus of a fantasy football competition with generous rewards
By using your football expertise, you choose the best players from around the globe and get paid for their real-life performances. 
The top 3 managers from each region receive prizes of ETH as well as cards, which can be redeemed for cash or used to improve your teams. Competitors who do not place in the top 3 compete for card rewards, which are tier-based, so the better you do, the better the card.
It's quite easy to get started since Sorare offers a free pack of player cards. The player cards are gradually released over the course of the season, with the starting bid for limited edition cards approximately £0.39-£0.49.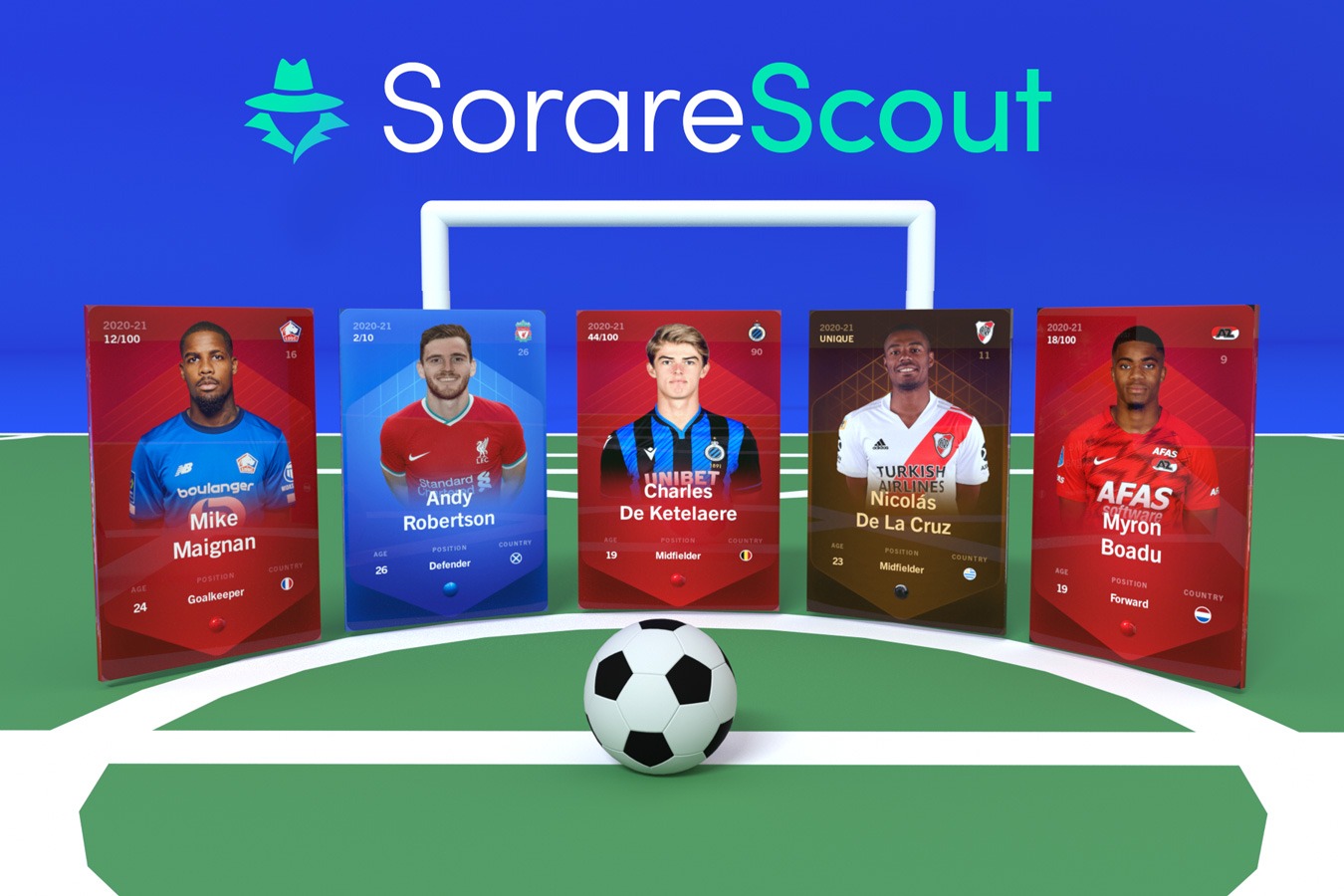 What's 'So Rare' about the cards?
Sorare limit the amount of cards that can hit the market in a season. This brings clarity and helps to stabilize the market. Once the supply has gone it has gone this can add value to particular cards as supply outweighs demand.
Each player card is considered a Non-Fungible-Token (NFT), using blockchain technology, Sorare creates a unique digital contract to validate cards and prevent them from being duplicated. Whilst you can not physically touch your cards they are truly yours to keep. They are not tied to the Sorare platform. You can remove your cards, store them in a digital wallet or even sell them on eBay, like any other collectible.
For each player, no more than the following can be created in a single season:
1000 Limited

100 Rare

10 Super Rare

1 Unique
New cards are released for each player every season, however the cards you buy are yours forever and can be used in SO5 tournaments as long as the player participates in one of the leagues covered by Sorare.
Now let's get started…
How to play Sorare?
There is a 3 stage plan to initially get stuck into Sorare.
Get your free common cards
Enter a tournament 
Start earning rewards and adding rare cards to your collection
Getting your free cards
You can claim your free Sorare Cards here. 
Once you've signed up you'll be taken through the simple Sorare onboarding process:
Pick a club name and logo
Select your favourite clubs (your free players will be chosen from these clubs)
Join your first league
Compose your team
Follow a player you like
Make a bid on a rare card
During this onboarding process, you will learn the basics of Sorare and receive your first 12 common cards as you complete the tasks. In step 2, you should choose your favourite clubs Wisley. Your free cards will be based on these choices and you ideally want cards that you can use straight away. We recommend checking out our Sorare Season Planner to see which football leagues are currently running.
The important thing to remember is that players from leagues you are unfamiliar with can still score well on Sorare, so you might be better off choosing one of these.
There are a few things you want to watch out for during the 'compose your team' step 4. Select players who will get regular game time, since players on the bench or out of the squad won't give you points! You should also look at the average score of each player. It is displayed on the left side of their player card and shows their form over the past five games. While it may not always tell the whole story if a player has been injured or had a bad match, it is a good indication of their performance.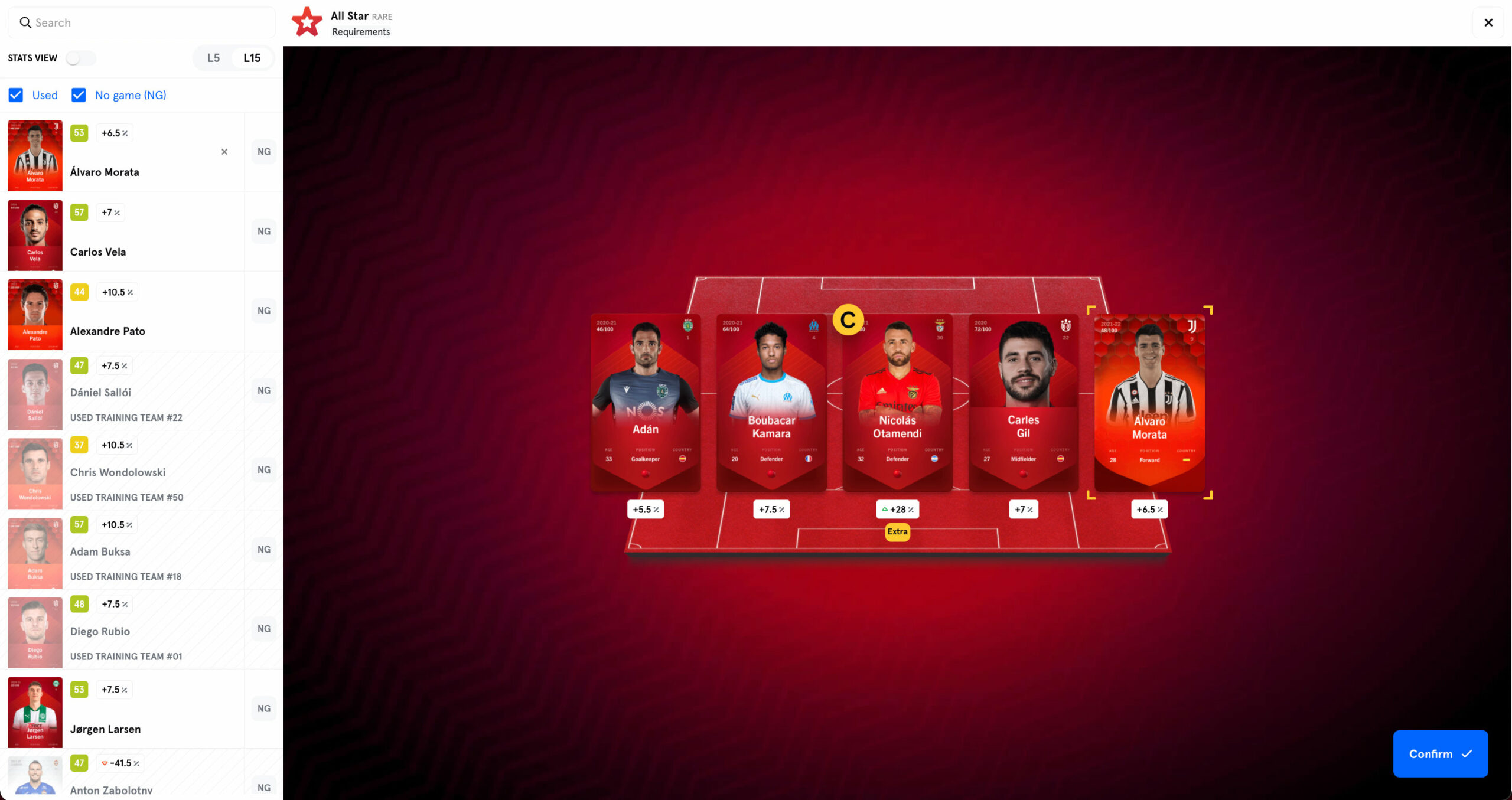 One more note regarding task 6 'bidding on a player'. You need not win that player to meet the requirement, you can bid as low as 0.0002 ETH (about £0.50) and even if you get outbid immediately, you will still receive the reward for completing the task.
How do you enter a Sorare tournament?
You can enter a variety of tournaments on Sorare twice a week and they all have different requirements. Tournaments will be available depending on the games being played in a given week. Each of the tournaments are outlined below:
Global All Star (Any player is viable and able to enter) 
Global Under 23 (Players must have been under 23 at the cut off point of a new season)
Champion Europe (Players from Europe's top 5 leagues – Premier League, La Liga, Ligue 1, Bundesliga and Serie A)
Challenger Europe (Players from the remaining leagues in Europe including the Eredivisie and Jupiler Pro League)
Champion Asia (Players plying their trade in the Asian leagues)
Champion America (You guessed it, played in American leagues such as the MLS or Argentine Primera)
Global Unique (Not one for a new user to worry about unless you've got a lot of cash to splash, you need a team of five unique cards to enter!)
Special Weekly (The entry requirements and rewards both vary on a week to week basis for this one so check in to see if you have eligible players) 
Special Training (Enter a team of five players to gain XP during the gameweek)
Additionally, each of these leagues has 5 divisions: Limited, Rare, RarePro, SuperRare, and Unique. thel divisions are designed to give everyone a chance at winning, so you can start at the bottom and work your way up, expanding your teams as you progress. As long as you own the players and they're eligible for a particular division, you can enter an unlimited number of teams. This increases your chances of winning the twice-weekly events.
There are 215 clubs that are officially licensed by Sorare, from which you select 5 players to build your lineup.  1 x Goalkeeper 1 x Defender 1 x Midfielder 1 x Forward and one more outfield player to complete the 5. You get to pick a captain from among these five players, and the captain of your team will earn an additional 20%, so you must carefully choose who you think will perform well and win your team points.
You're all set for your first game week! Just click confirm and you're done!
What do you get points for?
Sorare's scoring matrix is driven by Opta, and it covers a wide range of attributes, so players do not have to be megastars to score well. Each player begins with a baseline score, and then points are added or subtracted according to how they perform in real life. 
Players can score a maximum of 100 points from their performance plus an added percentage for XP (experience points).  Your cards gain XP when you use them in competitions or when you place them in training. In other words, as you use your cards more, their strength increases.
The system makes playing the game extremely engaging as it is much more advanced than the majority of fantasy football games out there. 
These are the factors that can influence their score positively or negatively:
| | | | | | |
| --- | --- | --- | --- | --- | --- |
| Category | Action | Goalkeeper | Defender | Midfielder | Forward |
| General | Yellow card | -3.0 | -3.0 | -3.0 | -3.0 |
| General | Fouls | – | -1.0 | -0.5 | – |
| General | Was fouled | – | – | 0.5 | 1.0 |
| General | Error leads to shot | -5.0 | -1.0 | -1.0 | -1.0 |
| Defending | Clean sheet | – | 10.0 | – | – |
| Defending | Goals conceded | – | -2.0 | -2.0 | – |
| Defending | Effective clearance | – | 0.5 | – | – |
| Defending | Won tackle | – | 3.0 | 3.0 | – |
| Defending | Blocked cross | – | 1.0 | 1.0 | – |
| Defending | Block | – | 2.0 | 1.0 | – |
| Defending | Double double | – | 4.0 | 4.0 | 4.0 |
| Defending | Triple double | – | 6.0 | 6.0 | 6.0 |
| Defending | Triple triple | – | 12.0 | 12.0 | 12.0 |
| Possession | Possession lost | -0.3 | -1.0 | -0.5 | -0.1 |
| Possession | Possession won | – | 0.5 | 0.5 | – |
| Possession | Duel lost | – | -2.0 | -0.5 | -0.5 |
| Possession | Duel won | – | 1.5 | 0.5 | 0.5 |
| Possession | Interception | – | 3.0 | 2.0 | – |
| Passing | Big chance created | 3.0 | 3.0 | 3.0 | 3.0 |
| Passing | Attempted assist | 2.0 | 2.0 | 2.0 | 2.0 |
| Passing | Accurate pass | – | 0.1 | 0.1 | 0.1 |
| Passing | Accurate final third pass | – | 0.5 | 0.3 | 0.1 |
| Passing | Accurate long balls | 0.2 | 0.5 | 0.5 | – |
| Passing | Accurate own to opposite pass | – | 0.5 | – | – |
| Passing | Missed pass | – | -0.2 | -0.2 | – |
| Attacking | Shot on target | 3.0 | 3.0 | 3.0 | 3.0 |
| Attacking | Won contest | – | 0.5 | 0.5 | 0.5 |
| Attacking | Penalty area entries | – | 0.5 | 0.5 | 0.5 |
| Attacking | Penalty kick missed | -5.0 | -5.0 | -5.0 | -5.0 |
| Attacking | Big chance missed | -5.0 | -5.0 | -5.0 | -5.0 |
| Goalkeeping | Saves | 2.0 | – | – | – |
| Goalkeeping | Saved shot from inside the box | 1.0 | – | – | – |
| Goalkeeping | Good high claim | 1.2 | – | – | – |
| Goalkeeping | Punches | 1.2 | – | – | – |
| Goalkeeping | Diving save | 3.0 | – | – | – |
| Goalkeeping | Diving catch | 3.5 | – | – | – |
| Goalkeeping | Cross not claimed | -5.0 | – | – | – |
| Goalkeeping | Six second violation | -5.0 | – | – | – |
| Goalkeeping | GK smother | 5.0 | – | – | – |
| Goalkeeping | Keeper sweeper | 5.0 | – | – | – |
Game week rewards
Here's the part you've been waiting for: Points for prizes, of course.
Game week rewards are one of the biggest parts of the Sorare game, where players can win card and ETH prizes. Those prizes can be cashed out or used to strengthen your teams.
You can win different rewards on the Sorare game based on the tournament you enter. Let's start by showing you a typical weekend limited all star game week.
So this was Game Week 250 8 March 2022. here we see:
All star Limited
24,672 participants 

1st prize 0.25 ETH + 1x star limited card

2nd prize 0.19 ETH + 1x star limited card

3rd prize 0.15 ETH + 1x star limited card
Additionally, 2375 reward cards of varying levels were earned by participants.
And here is the team that won that competition: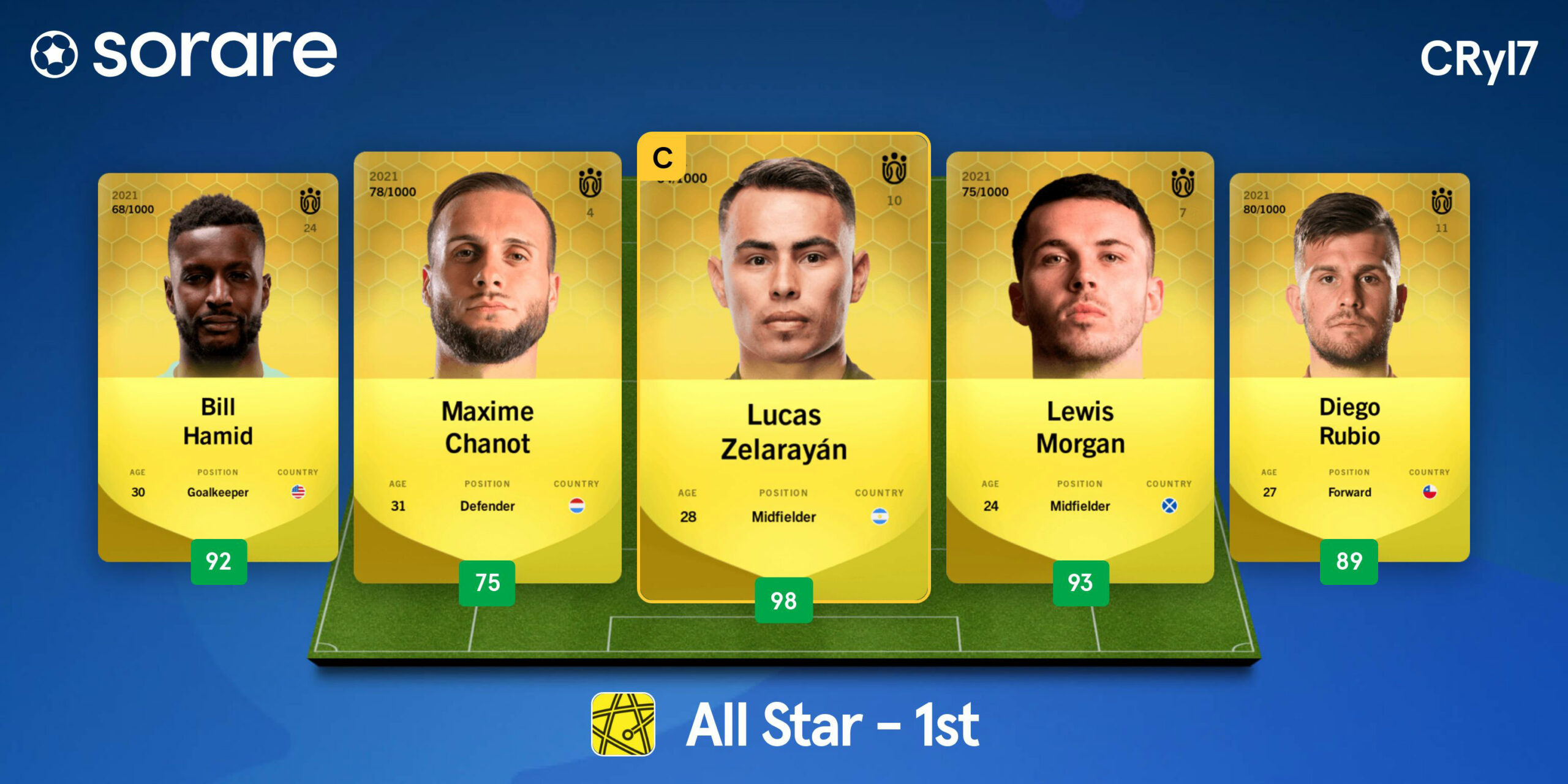 In this second instance we will show you a typical global all-star rare example from the same week:
In this division, you are challenged by sorare to 'beat the game'. Here you can play with four Rare cards and one of the free common cards you get when you sign up. The goal is to get your 5 players over a threshold score of 205 points in order to get a prize of ETH, which again can be cashed or used to strengthen your squad. In the Sorare community, this is also known as grinding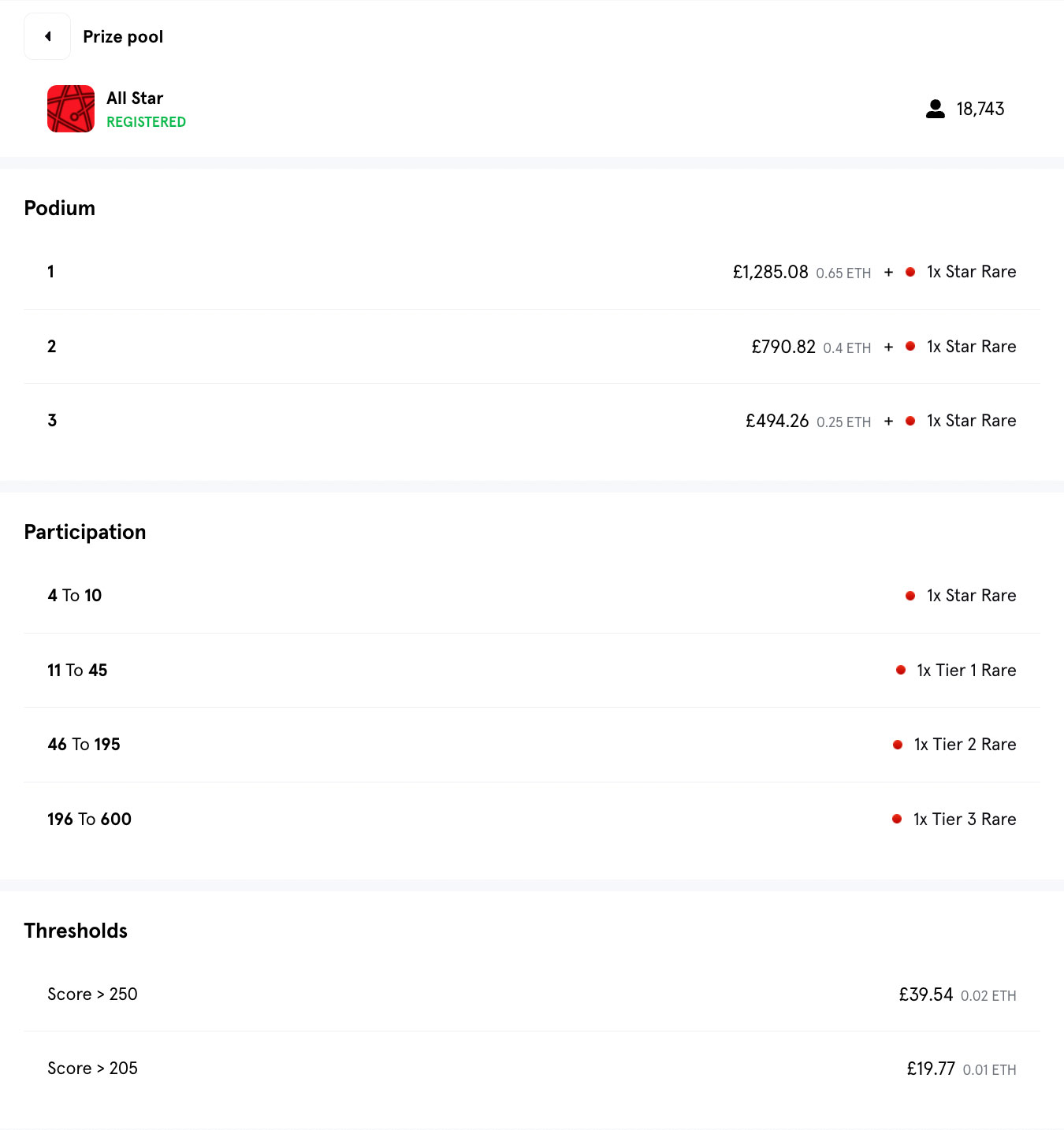 So this again Game Week 250 8 March 2022. here we see:
All star Rare
18,743 participants 

1st prize 0.65 ETH + 1x star Rare card

2nd prize 0.4 ETH + 1x star Rare card

3rd prize 0.25 ETH + 1x star Rare card

4,219 Managers scored >205

5,781 Managers scored >250
Once again, the winning team: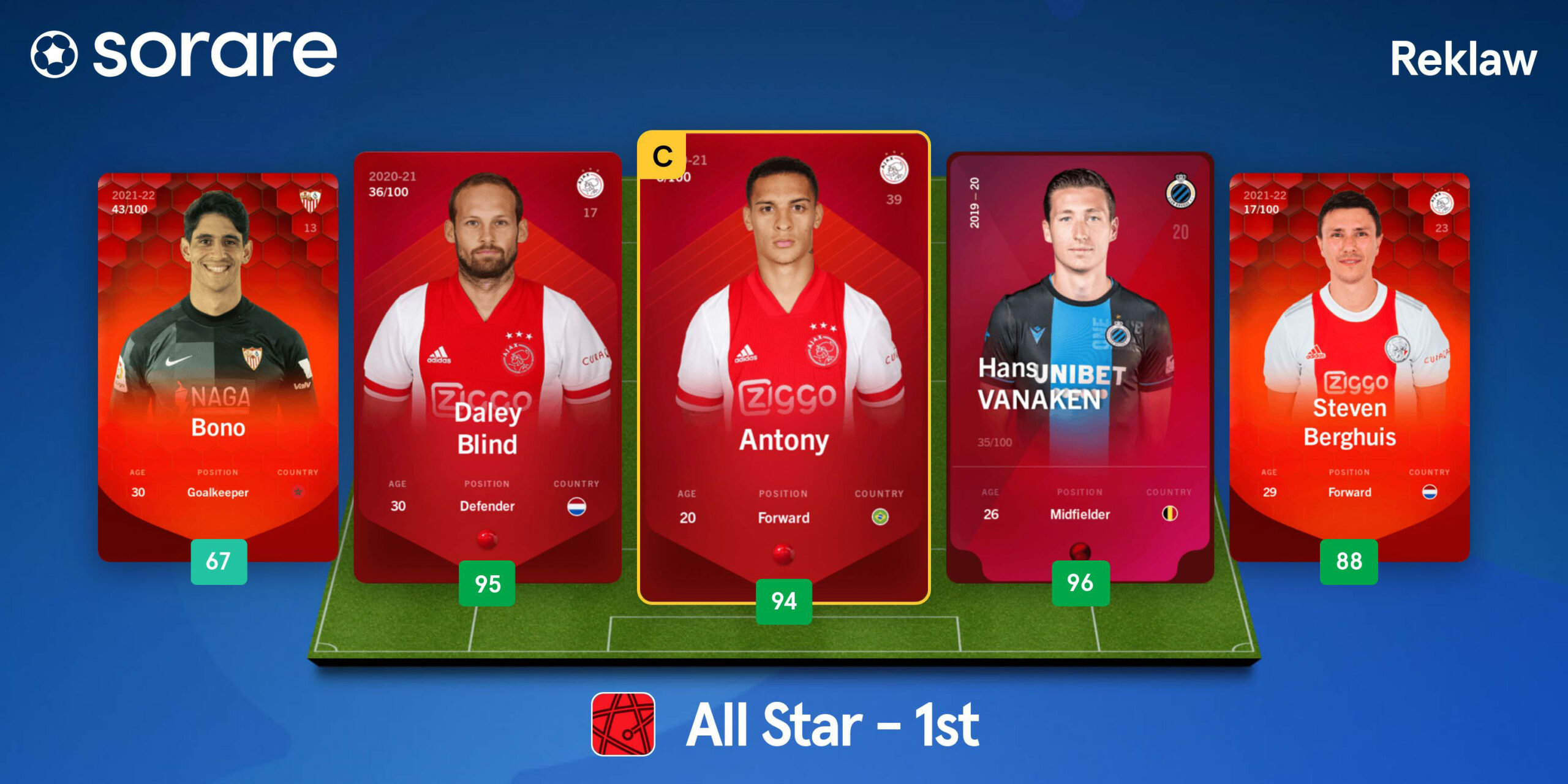 Start building your team
Now you know the basics it's time to start building your Sorare team out!
Adding ETH to your Sorare wallet
In order to start buying players on Sorare you'll need to add some ETH to your wallet. ETH which is short for Ethereum is a type of cryptocurrency which powers the game. Players use ETH to buy players and also receive it when they sell players.
There are a few of different ways to deposit/add ETH to your Sorare Wallet:
Use RAMP – Ramp is great for beginners who may be nervous about venturing into crypto for the first time. It allows you to quickly add funds using your credit or debit card in a matter of minutes. They'll take a small percentage of the fee but it's a quick and easy way to top up your wallet with small or large amounts.
Using a digital wallet like MetaMask – For players who already have experience with crypto, or for players who are making bigger deposits (over £500) we recommend using a digital wallet such as MetaMask and buying your ETH off an exchange such as Binance and Coinbase.
Purchase straight from a credit or debit card – For a quick purchase you can buy a player directly from the auction or secondary market using your card. There will be a small fee from most banks (try Starling or Monzo to avoid this), and the other downside is that the ETH won't be available in your wallet and so you won't be able to make offers.
But how do you get your money back out of the platform? Check out our article on Cashing out on Sorare to learn just that.
Now you've got some ETH into your account you're ready to buy your first player!
Buying your first players on Sorare?
There are a few different ways to buy players on Sorare.
New card auctions- Here is where you can buy players directly out of the game. These cards have been minted by Sorare and have never been owned by anyone else. Auctions are used to list these players, so the prices start at around  £0.39-£0.49 (limited edition cards) and users compete to buy the players. At the end of the auction, the highest bid wins the card.
Manager sales-  In this section, you can purchase player cards from other managers on the platform. As Sorare doesn't allow users to auction their own cards, these player cards have a set purchase price. However, you can bargain with managers to get a discount through the trade button.button.
Trade- The trade button allows you to offer another manager an amount lower than their asking price. You can also use your own cards in combination with Ethereum to clinch a deal. The other manager may accept or reject your proposal. 
The manager's market offers plenty of bargains, but if any players are signed from this market, they will not count towards the sign-up bonus.

It's important to do your own research before purchasing a new player. Price fluctuations may occur as a result of transfers, injuries, or changes in form. Prices sometimes fall towards the end of seasons because managers look to shift cards that are not going to be useful during the offseason to buy in an area that is active. At this point, it's important not to panic sell your cards since they will become usable once the new season begins. Use our Sorare Season Planner to time your player transfers to perfection!
Once you've purchased a few player cards, you're ready to compete in the big weekly competitions to win ETH and more cards to upgrade your squad!
Scout Tip: Players can sometimes take a few minutes to appear in your squad. This is because with every transaction there is a 'gas fee' which is paid by Sorare. Once this is covered the card is yours.
How to earn money with Sorare
Let's be honest, we are all in it to win it, and if you don't have a shot at the prize, what's the point? You understand the basics of the game, how the scoring system works, what players cost, and the competitions available. Let's turn our attention to how you can make some money off Sorare.
Our objective is to demonstrate how it is possible to make money from Sorare. It is not intended to be taken as financial advice.
Beating the game 
Sorare hosts a free-to-enter promotional game for its users, where you will be challenged to 'beat the game'. Simply put, you enter 5 cards into a global all star competition to win ETH prizes and more cards to strengthen your squad. 
1 x Goalkeeper 1 x Defender 1 x Midfielder 1 x Forward and one more outfield player to complete the 5. If  you team meets the threshold you will win ETH
It is planned to phase out this part of the game at some point in favour of an engaging progress bar, and we will update it when we know how and when it will be phased out.
Buy low, sell high
The process is quite simple. If you buy something for a low price and sell it for a higher price, you will make a profit. The secondary market within Sorare allows you to do this- you can trade, buy, and sell cards with other managers.
The snowball strategy
Using the snowball method to make money on Sorare requires patience and good management skills as you build your gallery and try to earn ETH rewards. Hopefully, you may pick up some reward cards along the way. Your rewards can be saved, sold, or used to help your team succeed, thus creating more rewards 
The growth of the game
Whilst your team is earning you rewards you ideally want them to be increasing in value at the same time. As more and more people join the platform we have seen an increased demand for cards (look at the graph below with the number of users holding varying amounts of cards and how it has grown in the space of 6 months).


With this increase in demand we have seen that the cards bought by early adopters have increased in value making them highly profitable. 
Check out our full article on: How to make money on Sorare
We've put together some tips for smashing game week rewards:
Check player's fixtures
An obvious assumption that many players make when starting off with Sorare is that you should always use your players with the highest average score.
However, one crucial factor that many users fail to consider is who their players are going up against in a given game week.  An example of this might be when you have 2 Goalkeepers. 'GK A' is averaging a score of 60 each game week whereas 'GK B' is averaging around 50.
This might seem like an obvious choice at first, but keep an eye on who they are up against that week, if 'GK A' is up against the top scorers in the league then it might be a safer option to pick 'GK B' who is averaging slightly less for this game week.
Choosing players carefully for specific leagues
Another common mistake that many new players make is to just buy random players available in the game. This can really limit the amount of rewards that are available to you due to the specialist leagues. When you first start off it's best to focus on one or two of these alongside the Global D4 to maximise your chance of earning those game week rewards.
Trading on Sorare
Another great way to make some money on Sorare is through trading players. With the value of players shooting up every week is crucial that you do your research into the ones that will give you the best long term return and fun on the game.  Here's a couple of tips to get you started!
Scouting for value on Sorare
Some of the best bargains on the game are on players who aren't currently playing. Although you won't be able to use these players in the short term, you could be picking up players that will turn out to be a great long term investment.
The key thing to look at here is why is that player not getting games? This could be from a couple of things:
The player's team is currently in the offseason – players that aren't playing because the season is over could be a great long term investment. This is because some Sorare managers will happily sell these players for cheap because they can't be used for a couple of months. When the season starts again their value might shoot up! A great tool for checking when a players season will start and end is our Sorare Season Planner.
The player is injured – the key thing to look for here is if the player has a long or short term injury. Players who have received a serious injury may be out for the entire season, meaning they may not be worth the investment unless you are really looking for a long term return. However, some players may just be out for a couple of games. Here you can make a quick return on players by purchasing them and then selling them on when they start playing again.
Buy for the future. Check out our article on Football Manager 22 Wonderkids
A bad run of form – one of the most common reasons that players won't be playing is simply a bad run of form. When this happens it's great to check Sorare Resources such as Sorare Data where you can check a players score over time. Using Sorare Data you can spot players that are just going through a rough patch of form and snap them up cheap!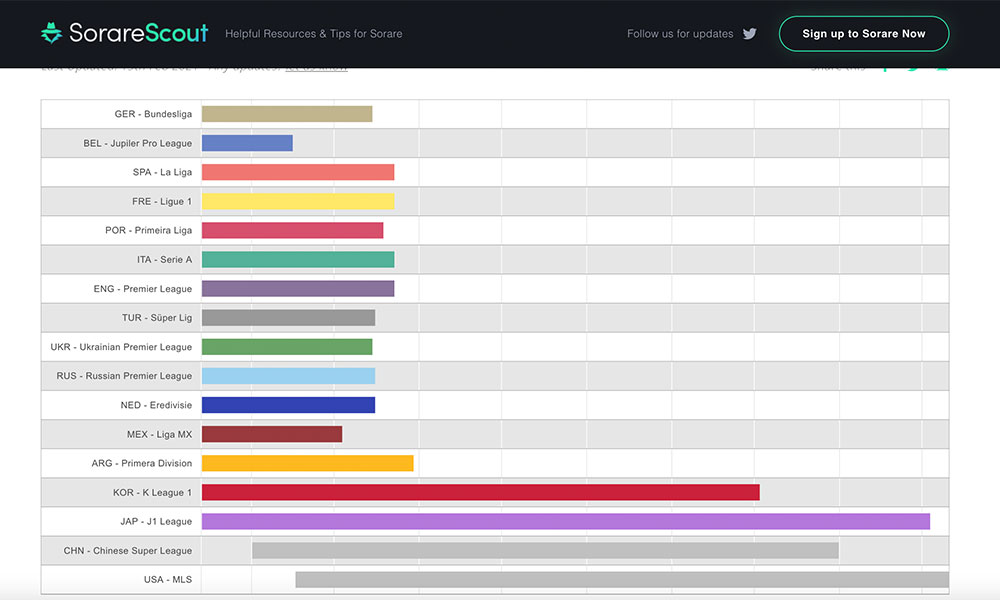 Sorare Training
Sorare training has remained a bit of a mystery even for experienced Sorare managers. When players don't play games they stop earning any XP, sometimes this is completely unavoidable because it may be the offseason.
This is where training comes in, training allows players to continue to increase their XP even when they're not playing. It's best to always keep your players who don't have games in training so they can continue to develop XP, this means the players will be more valuable when they do start playing again.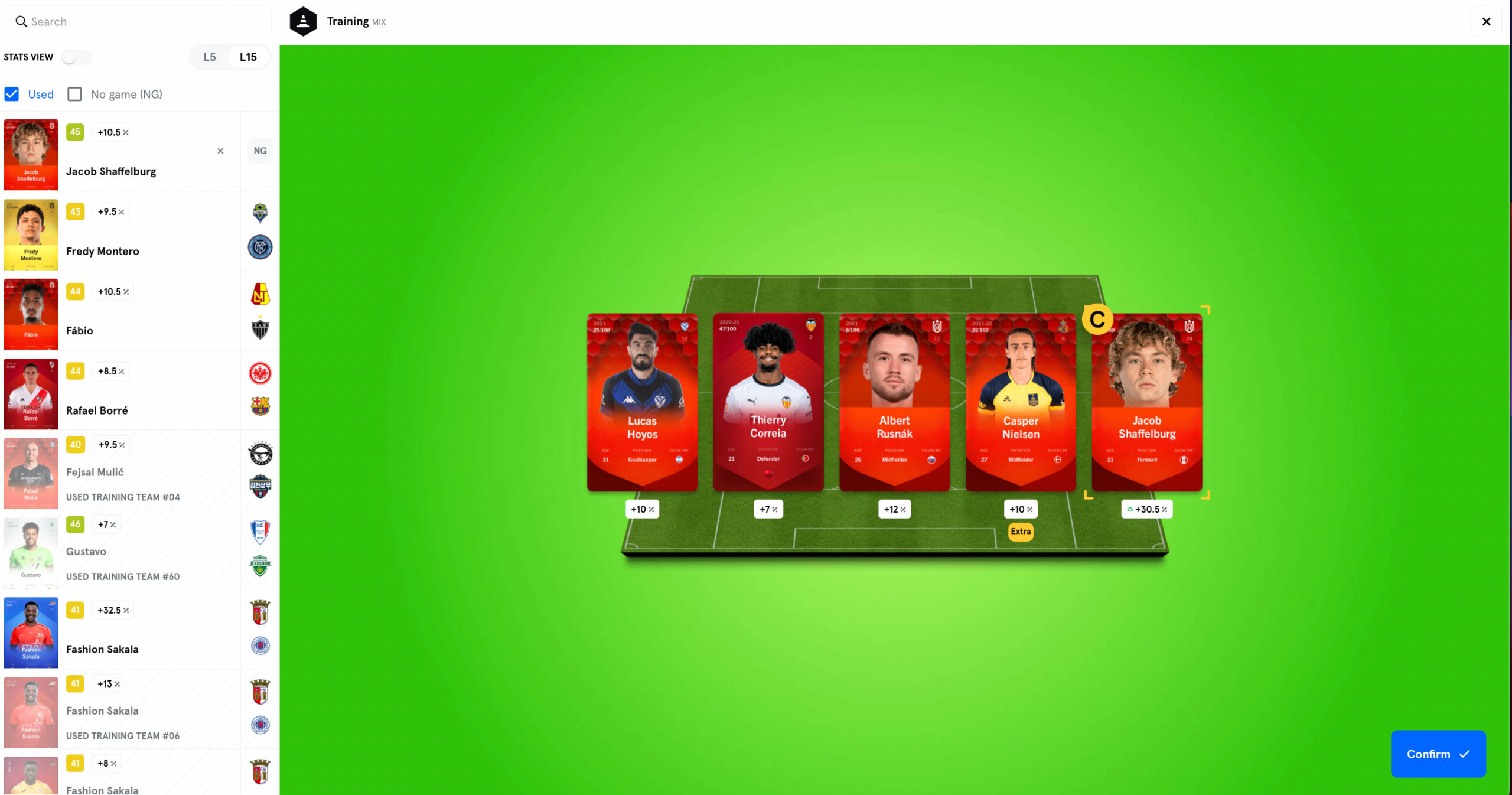 Sorare Resources
One of the great things about Sorare is the vast range of resources, many of which have been produced by the Sorare Community.
SorareScout Guides 
Football Manager 2022 Wonderkids on Sorare
The Best Time to Sell Sorare cards
Join the SorareScout Community Discord
Top Ten Sorare FAQs For New Players
Sorare League news
BulliNews 🇩🇪 – A site dedicated to Bundesliga Football, expect to see injury news and predicted lineups before each game week. The site also has a dedicated area from transfer rumours.
K League News 🇰🇷 – A great resource for keeping up with all the latest transfer and injury news for the South Korean Football League.
La Liga Expert 🇪🇸 – This is great for any Sorare players who have teams from La Liga, with injury news and predicted lineups being updated every week. The site also has a dedicated area from the latest transfers rumours.
Fantasy Football Scout 🏴󠁧󠁢󠁥󠁮󠁧󠁿 – There's no better place for the latest Premier League team news. Check out predicted lineups and who's in and out of each team every gameweek.
Sports Gambler 🇪🇺 – This is great for checking a range of European leagues showing predicted and confirmed lineups and also includes the latest injury news.
Whoscored 🌎 – Whoscored provide predicted lineups, injury news and also a predicted score for a range of games in world football. They include some of the less known leagues such as the K-League and Liga MX
Sorare predicted Line ups
La Liga🇪🇸
Serie A🇮🇹
Sorare Podcasts 
The Sorare Podcast – The team at Sorare Podcast are some of the most experienced players in the game. They talk about everything from game improvements to transfer news and often bring on Sorare players and members of the team such as CEO Nicolas Julia.
Triple Rare – A new podcast on the scene, Triple Rare is the perfect Sorare companion guide from three fairly new users on the platform. It gives a different take on a Sorare journey.
K League United – The best English podcast to get K League news as well as weekend previews. With an unpredictable league like the K League this podcast gives you the best opportunity to stay up to date.
J Talk – This one is similar to K League United, but J Talk focuses on the J League. The frequent episodes will give you the lowdown on all the action throughout the league and give useful insights into picking your lineups or finding new signings.
Youtube
Quinny – Quinny provides a great set of videos for new and experienced Sorare players alike. Covering everything from 'How to' style guides and player recommendations, to live streams of upcoming Gameweeks.
John Nellis – John is a youtuber who has recently dedicated his entire channel to Sorare. An experienced user who knows his stuff and is regularly near the top of the leaderboards. His channel is full of guides, lineup building, reward openings and squad challenges.
M.Seguin – For the most in depth introduction videos, market updates and scouting reports look no further than M.Seguin. With multiple videos every week you will not struggle for content to take in and help you get started.
Data / Player Research
Soraredata – Sorare Data is an epic resource which makes the great use of the Sorare API. You can use it to track the value of your players, team and even other managers players. It has a huge range of analytics tools that will enable you to do better research and become a better manager.
The entire community acknowledges how essential this tool is to almost every aspect of Sorare. Just for scouting players you have the ability to check their previous values on the auction and secondary market and previous SO5 scores from the start of Sorare. You can even look at players who aren't on the platform yet like Messi and Pogba.
Sorare Info – Sorare Info provides a free weekly newsletter which gives players great transfer tips, especially for players on a tight budget. You can sign up for the Sorare Newsletter here.
Transfermarkt – As well as Sorare related platforms it's important to take in some outside information as well. Transfermarkt is great for seeing a player's entire career history and statistics, as well as a real life valuation which is great for seeing if a youth prospect or lesser known player might be worth more than he currently goes for on Sorare.
Fotmob – Fotmob is another website which is very handy for a Sorare user. There are other platforms available but this is widely regarded as a great place to check up on all the injury and suspension news before a gameweek, as well as see the team lineups for all leagues as soon as they come out.
Why should you play Sorare?
So, now you know how it works, but why should you play? Or why should you make the switch from other Fantasy Football games?
Sorare now has over 176 officially licensed clubs with more added all the time.
The level of adoption from Global leagues and teams has been amazing, with huge European giants such as Liverpool, Real Madrid, Paris Saint-Germain FC, Bayern Munich, Juventus and Atletico Madrid all on the platform.
Some full leagues are onboarded all at once, most recently seen with the Eredivisie at the end of January. Currently there are 176 registered clubs on the platform, with Sorare aiming to double the amount of registered teams in the foreseeable future. 
You get to pick the top players for your team and get rewarded with points depending on how well those players perform. With the prizes up for grabs, plus the investing opportunity on youth, injuries or just unsung stars this is a fantastic opportunity to have a lot of fun and potentially make a nice amount of money in the long term. 
Are you ready to start playing? Sign up to Sorare with our link you get a free card when you buy 5 players on auction!
More utility for your Sorare cards
When you purchase a card on Sorare you might imagine that it would have no utility away from that website but you would be wrong. Because the cards are all on the blockchain this allows other sites to create games and formats that utilise your cards in similar ways. To get the most value out of the cards you own, make sure to get involved with the other games out there.
SorareData 
As well as being a void of resource and information SorareData also allows you to use your own cards in a number of varied competitions. There are tournament style 'cups' for every league as well as the big one, the SorareData cup. You have to enter an 11 man squad with 4 subs each weekend and you're put in a 1 vs 1 matchup. If you win you progress, if you lose you're out. The winners of all cups are given a free star rare! There is also a league system where for every matchup you win you gain ELO points, whilst a loss will take points away. With promotion and relegation in place and more rewards available in each division this is a great opportunity.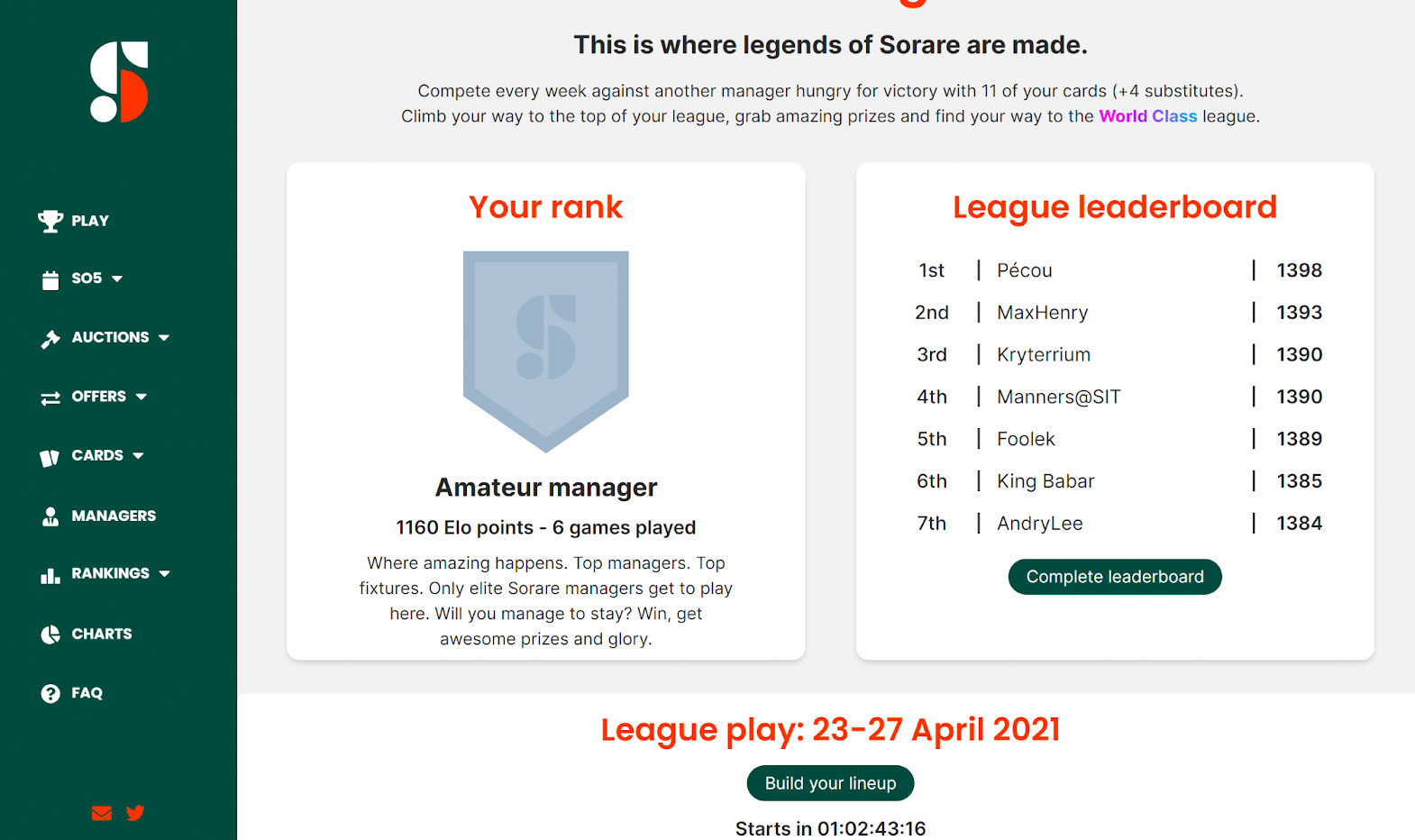 Ubisoft OneShot League
This might be the best opportunity for a new player to win rewards because everyone starts out on a level playing field. You pick your own pool of common players and choose which of these play for you each week. The only thing is that when you've used a card once you cannot use him in another gameweek (unless you get a powerup to do so). With a bit of research you can easily make up a strong roster of players to choose from each week. At the time of writing the top 5% of players each week get a card reward, with the top 400 overall winning an extra prize at the end of the tournament. Check it out here.
SorareMega
Finally we have SorareMega which is the most similar platform to the regular Sorare SO5 game. You can enter Mega 3, 5 or 8, the numbers corresponding to how many cards you use in the lineup. Mega 3 is especially accessible as you only need 3 players and none of these have to be a goalkeeper. The rewards for these games are a bit more lacking with only a couple of cards up for grabs in each section, however it's still a lot of fun to be involved in.
Sorare FAQS
We've put together some of the most common questions we get from Sorare pros and newbies alike. Got a question yourself? Reach out on Twitter @SorareScout, we're a friendly bunch we promise!
Can you make money off Sorare?
Sorare can be an extremely fun game and at the same time it can be a smart investment. Due to the limited number of cards minted every year and a rapidly growing user base, the demand at certain times is much higher than the supply, which means cards can exponentially increase in value. See our tips on the best times to sell cards. Sorare offer twice weekly tournaments over a range of regions that ETH prizes can be won on top of this you can also win highly sought after cards that you can then sell or use to bolster your future teams.
What's Ethereum/ETH in Sorare?
ETH is a decentralised digital currency which uses the Ethereum Blockchain. The most popular Cryptocurrency that you might have heard of is called Bitcoin.
Ethereum is absolutely vital to the Sorare platform and is used in fundamentals parts of the game:
Playing cards are bought and sold using ETH and transferred on the Ethereum Blockchain
Game week rewards are paid to players in Ethereum
Manager's cards are stored on the Ethereum Blockchain which helps guarantee the rarity of the cards
ETH can be easily swapped for your local currency, check out our guide to that here.
Can you play the same cards in multiple divisions?
It is only possible if you own multiple copies of the card, for example, if you own Toni Kroos, you cannot use him in the Global All Star and Champion Europe rare.
Why are goalkeepers so expensive on Sorare?
Because each club only has one first team goalkeeper the supply of keepers who play regularly is quite limited compared to other positions. As a result the prices stay consistently quite high, even for keepers who struggle to get many points in the game. If you can get some decent common keepers during your time in the rookie league then it is a very viable option to use these in division 4 with your rare outfield players whilst you save up for a rare goalie. (Note: the use of  common keepers will be phased out in aug 2022)
What happens if my player has two games in a gameweek?
If this happens then the score in the first match will always be counted towards your SO5 entry. However, if your player does not feature in the first game but does in the second then they will get their score from the second.
Why is my player's fixture not included in the gameweek?
Unfortunately the current gameweek cut off times mean that certain matches on Tuesday or Friday mornings are not included in any gameweeks. It is something the team have received lots of feedback on before so it is something they are aware of and may look to change in the future.
I've purchased a player, why is the transfer pending?
When you buy a player it is instantly yours, however, sometimes the transfer takes a while to fully go through. This is because a gas fee must be paid. Luckily Sorare pays this for us, but that means there is sometimes a delay. Don't worry though, you can still use your new card in SO5 immediately, you just can't list it for sale again until the transfer has fully gone through.
How much money do I need to get started with Sorare?
At the time of writing we think you'll need between £200-450 to be able to build a competitive team that can compete to win more limited card rewards.
Test your scouting knowledge and aim to build a team that can win 205 points and start your road to building a great squad, make sure you use our sign up link to give yourself a head start with a free card!
Special Sign-Up Offer
New Player Deal - Sign Up to Sorare now through us & Get a Free Card & VIP Access after 5 cards bought on auction.
Sign Up To Sorare Now