Top Trading Tips for Sorare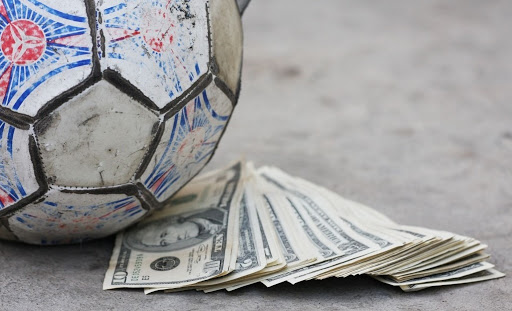 No matter your strategy, buying & selling is an integral part of the Sorare journey. You will likely spend most of your time on the site deciding who, when and why to buy. Daily auctions and constantly changing ETH prices mean these decisions are not always straightforward.
This article contains tips and tricks to help you get the best deals on Sorare through planning, negotiating and utilising every aspect of the platform.
1. Adapt to Auction Times
We all do it. A long-awaited auction goes live and we wait for the last minute to make our move, only to get into a bidding war and miss out. Not all auctions are as hotly contested however. Certain times of day don't suit people for one reason or another. It's easy to forget sometimes but there is life outside of Sorare! 

The most obvious time is late night but other times like during standard working hours (9am – 5pm) on weekdays can also prove fruitful. If you can spare an hour's sleep or take your lunch break a little later, it could mean you bag that much needed addition to your squad. The global appeal of Sorare means there are users in every corner of the globe and the auction end time is bound to suit someone. All you can do is hope you aren't bidding against a manager on the other side of the world as you struggle to keep your eyes open.
2. Use Discord to Negotiate
New players are encouraged to join the Sorare community on Discord. If you haven't already, join here. It's a great way to engage with the community as well as find some great deals. Managers can include their Discord username and tag in their Sorare profile so you can find them easily. Be sure to add yours to invite more offers. The #for-sale, #want-to-buy and #trades channels have everything you could need. With there currently being no way to counter offer or comment on offers received, Discord is the only way to deal directly with managers. A more personal and focused approach can be the difference in getting a deal over the line.
3. Tailor Your Trade Offers
One of the beauties of Sorare is that you can take a look at other managers' galleries. You can see their most recent purchases, gauging the type of players they like and the teams they are building. Perusing the #want-to-buy and #trades channels on Discord can also give an insight into the direction they are going too. Trade tactically. Use this information to your advantage when making offers rather than just offering your current listings and undesirable rewards.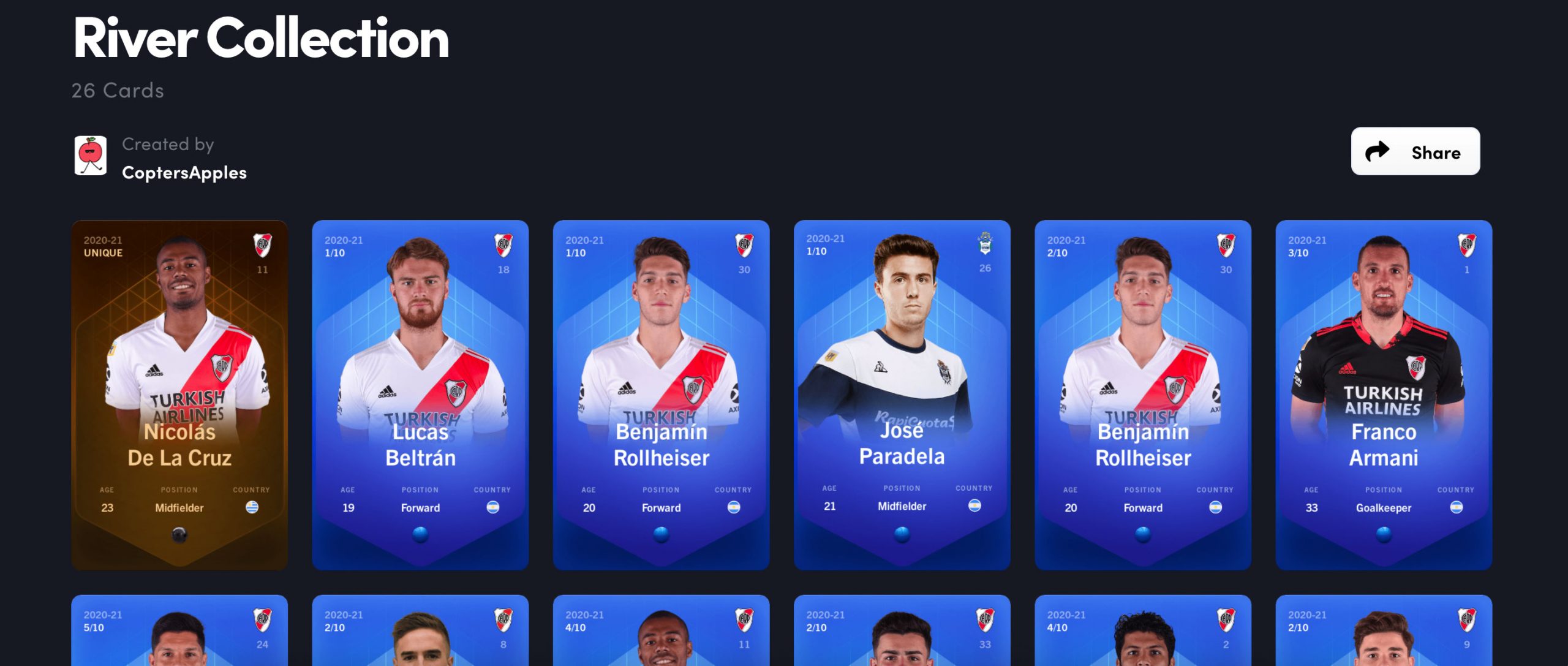 4. Use the Newly Listed Filter
Good deals don't last long. Sorare has plenty of eagle-eyed and educated traders, meaning offers on the transfer market at a big discount will often get snapped up. Years of online shopping has trained us to instinctively sort by lowest price. However, on a platform with an active secondary market, sometimes searching for the most recent listings can be the most profitable. A combination of keen eyes and quick reactions can see you pick up some great bargains on cards within an hour of being listed.
Any guilt that may have been associated with this trading method has been washed away in recent months. Sorare have introduced a 2 minute window for sellers to retract their listing before it is made visible on the transfer market. As well as this, the amazing people over at SorareData invented the A.W.E.S.O.M.-O bot which saves mislisted cards, buying them and sending them back to their owner for the same price so you can be doubly sure secondary market listings are at a price the owner is willing to accept.
5. Off-Season Offers
"Buy when everyone else is selling and hold until everyone else is buying," is a quote from Jean Paul Getty; a man who died before NFTs, crypto and even the internet but this mantra applies to Sorare. It can be difficult to predict these peaks and troughs in the stock market, but with football, the beginning and the end of the season (along with any mid-season breaks) provide decent markers. For a complete list of league start and end dates, check out our Season Planner.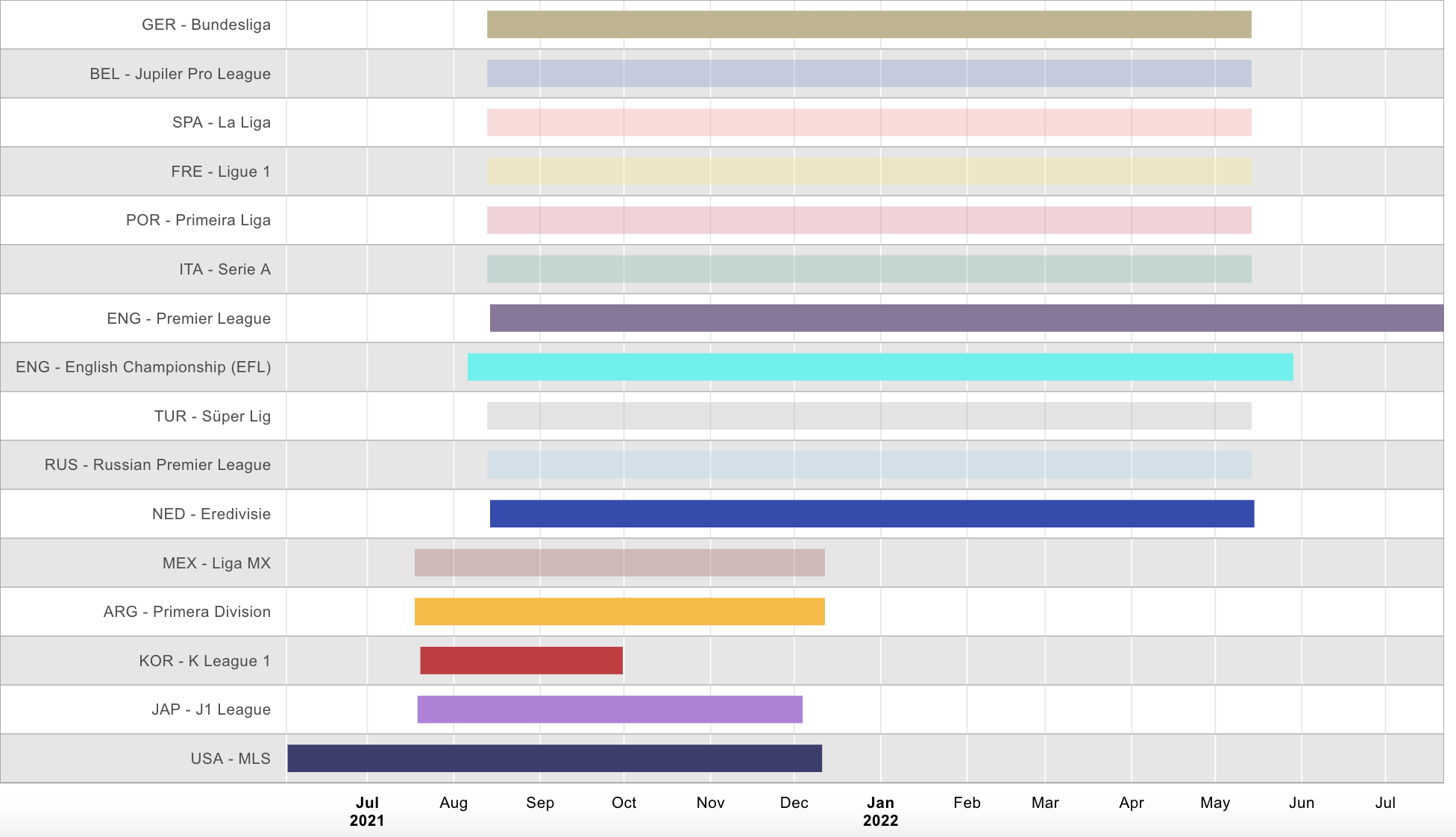 Simple economics tells us demand for European cards should be lower during the summer break (besides those involved in international tournaments). If you have spare ETH, now is the perfect time to be looking at investing in some European talents. As summer passes, hype will build for the beginning of the 21/22 season across the continent, causing a corresponding rise in prices. It pays to think ahead. 
6. Early Editions
When a new club gets licensed there are always the big names that everyone wants; the Koopmeiners and Stengs of this world. For every star player, there is one who flies under the radar. Buying one of the first mints of a lesser known or out of favour player can lead to huge returns further down the line. Take a look at the price graphs of some of their AZ teammates who have tripled in price since releasing on Sorare:
For those of you who love finding a hidden gem in Football Manager or Career Mode, this one's for you. If you think you have a keen eye for talent, why not put your ETH where your mouth is?
7. Follow Future Stars
If you want to take things one step further, you can make use of the Follow feature on Sorare to get the jump on other users. By following a card on Sorare, you will get notified (by e-mail) when an auction of that player goes live. You can even follow players who have not been licensed yet meaning you can be one of the first in line when their card is first auctioned. 

Bear in mind that this does not apply to every player as some will have no shortage of interest, especially for that prized #1 serial number. Checking out a player page can be a good way to gauge the future demand of a player.
8. Buy the Bench
As a new season begins there is always uncertainty over who will be the consistent starters and standout performers, even more so during COVID. For some, buying a player with less than 60% games played is unheard of but it is arguably this cohort which has the largest scope to increase in value. Sitting on a substitute, waiting for his chance to shine can seem tedious but as a side investment it can be very lucrative. Many of the trending players on Sorare Data fall into this category. Every week, there are injuries, suspensions and rotations with another player benefitting. It's just a matter of picking the right ones.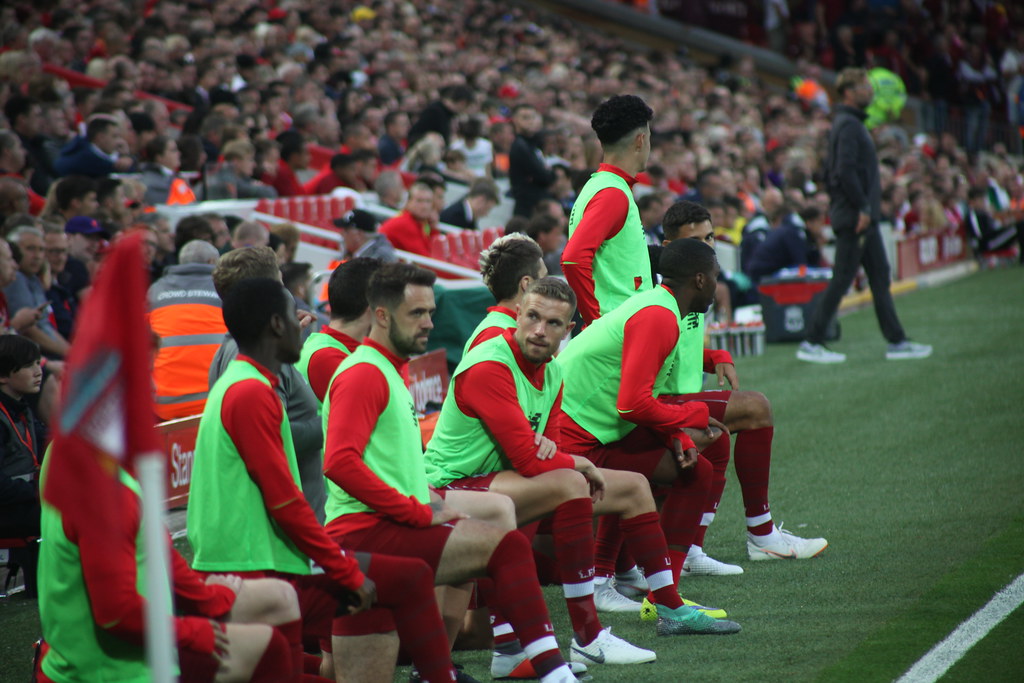 Guessing which of a club's six wingers is going to get their chance this year can be a tough task. Goalkeeper is a much easier position to predict as most clubs have a well established pecking order. What we can't predict is a red card or a stomach bug, taking out the first choice stopper. Second and third choice GKs often go for next to nothing on Sorare so there is no excuse not to take a look. Their value can easily skyrocket higher than their outfield counterparts with a run of a few games in the starting XI. Although this does not apply to every team on Sorare. Fans of Napoli and Lazio could only wish for a regular starting goalkeeper over the past season and there are a few examples in each region. 
9. Lookout for Loanees
Loan deals are more common than transfers these days, and present another opportunity for trading on Sorare. There are plenty of deals available on these kinds of players. Buying one before a move away or even on the way back to a parent club can yield a good return on investment as there is often a time lag between the move and minting of the updated cards, making them all the more scarce.
Keep an eye on loanees that: 
Perform well

May not have a future at parent club

Are playing at or returning to an unlicensed club
10. Buy Low, Sell High
Sorare is a fantasy football game on the ethereum blockchain, meaning card values are based in ETH. The rising price of ethereum has long been a barrier to entry and topic of discussion for Sorare users.
Depending on your motivations, you may choose to value your players in ETH or FIAT (e.g USD) and your gallery value in the short run may not be all that important to you. 
Regardless of your attitude, there is opportunity in monitoring the markets. Selling your accumulated ETH earnings at an all-time-high or a predetermined value (i.e $3000) is a good way to bank profits. You can always keep the money on the exchange to buy back at a later date, and hopefully a lower price, increasing your future buying power. 
Buying crypto can be daunting and isn't for everyone. It is possible to buy players using debit or credit cards and even top up your wallet with your local currency using Ramp. Within a player's 48 hour listing on the transfer market, ETH can fluctuate significantly, meaning waiting for dips and long-term planning can help your money go further.
Trade Like a Pro…
We all want the lowest price when we buy and the highest when we look to sell. How to actually do it is a mixture of planning, psychology and luck. Thinking ahead of the curve is key to playing the game better on Sorare. Step 1 is to find the right players. Step 2 is to find them for the right prices. The above 10 tips aim to help you spot value, understand fluctuations and get the most out of your money when trading on Sorare. 
Special Sign-Up Offer
New Player Deal - Sign Up to Sorare now through us & Get a Free Card & VIP Access after 5 cards bought on auction.
Sign Up To Sorare Now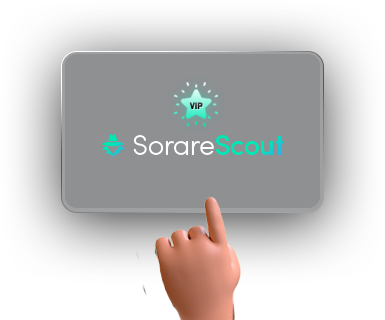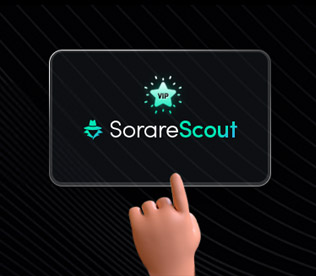 The content on this site is funded by the Sorare Affiliation platform. If you sign-up or refer a friend please consider doing so through our site. As a thank you will reach VIP status.
Read More About VIP Access