Sorare on a Budget - The 0.5 ETH Challenge (March 2021)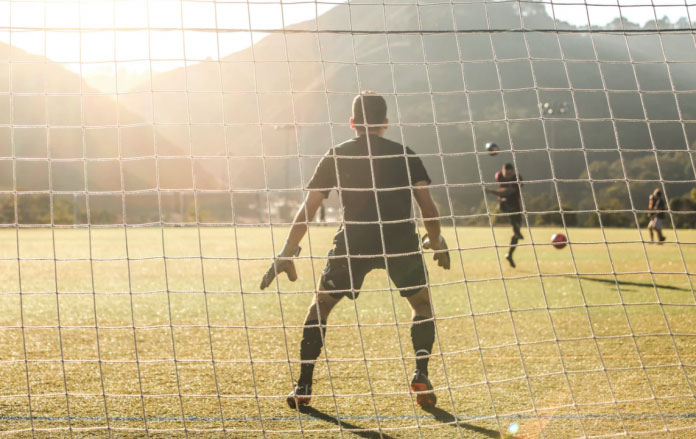 Today I'll show you how to put together a strong team for under £500 which will help you compete regularly for Ethereum prizes in Global Division 4
It's a big jump for most people to make their first deposit to Sorare and start picking up players and one of the most asked questions is what is the minimum I have to spend to be competitive? Today I'll show you how to put together a strong team for under £500 which will help you compete regularly for Ethereum prizes in Global Division 4. It also has the ability to push for card rewards from time to time as well.
It should be noted that for this challenge I recommend using a common goalkeeper rather than eating into most of your budget to pick up a rare one. If you haven't signed up to sorare yet make sure you do your research and talk to the community first to help with this.
This gives us £500 which, as I write this, makes 0.426 ethereum. At an average of 0.106 per player there are some very good quality cards available. Here is what I would do if I were starting out:
Jack Hendry
Position: Defender
Club: KV Oostende
Price: 0.065 ETH (£75)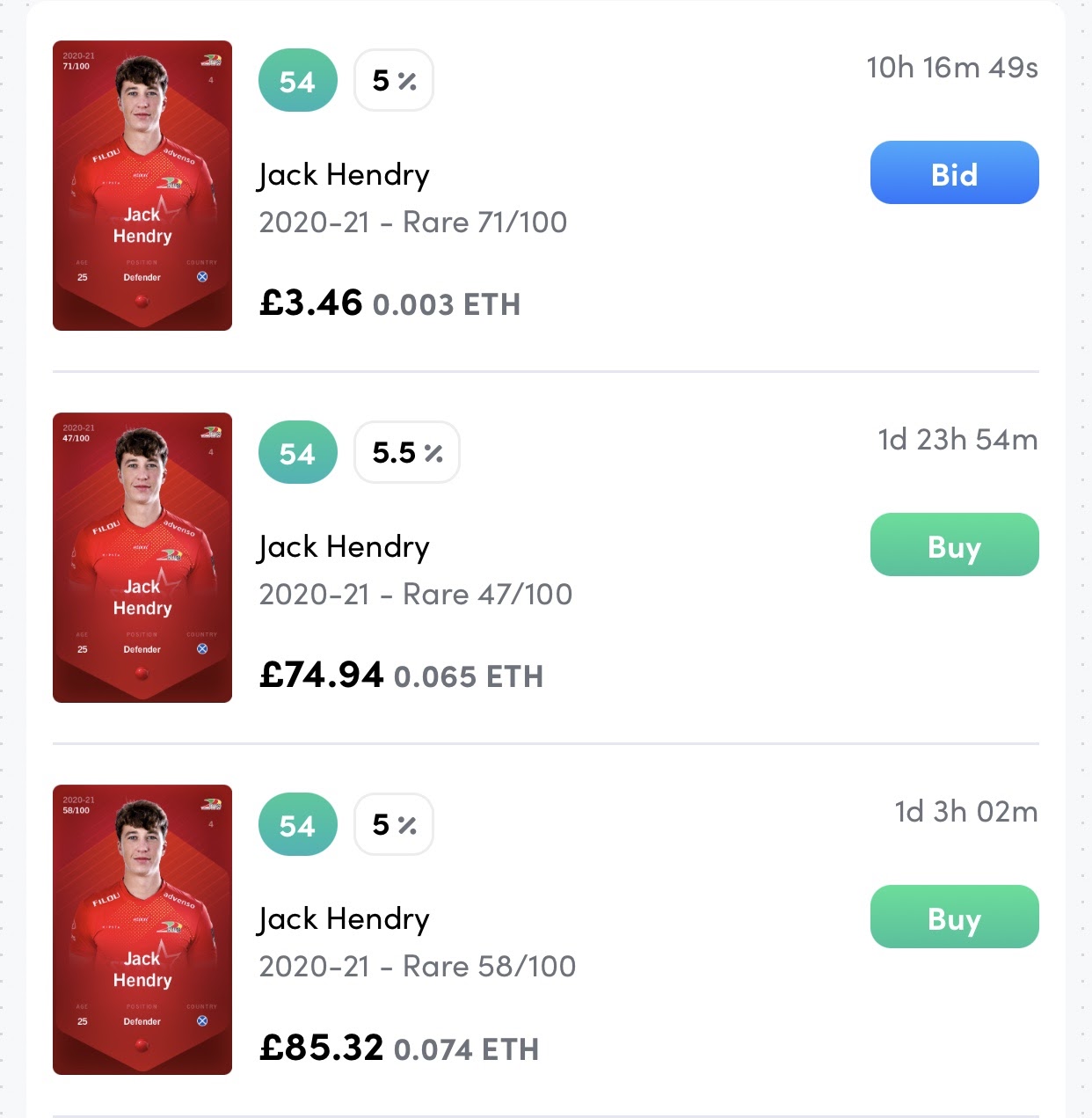 If you're new to Sorare then you might not know much about the Belgian Jupiler League but trust me, you will become addicted. Jack Hendry is a name that might be a little more familiar for anyone in the UK as he is currently playing over there on loan from Celtic.
After a lack of gametime in Scotland he moved to Oostende where he has been instrumental in their season, helping them climb to fourth place with a few games left of the regular season. (Don't worry about this though, Sorare covers the Jupiler play offs meaning Hendry will still have a further six chances to play.)
His SO5 scores are as solid as the Oostende defence, who have the third least goals conceded in the league. He has one goal and one assist this season, shown in his scores of 80 and 84 but Hendry can also score consistently well without any goal contribution with seven more scores above 65.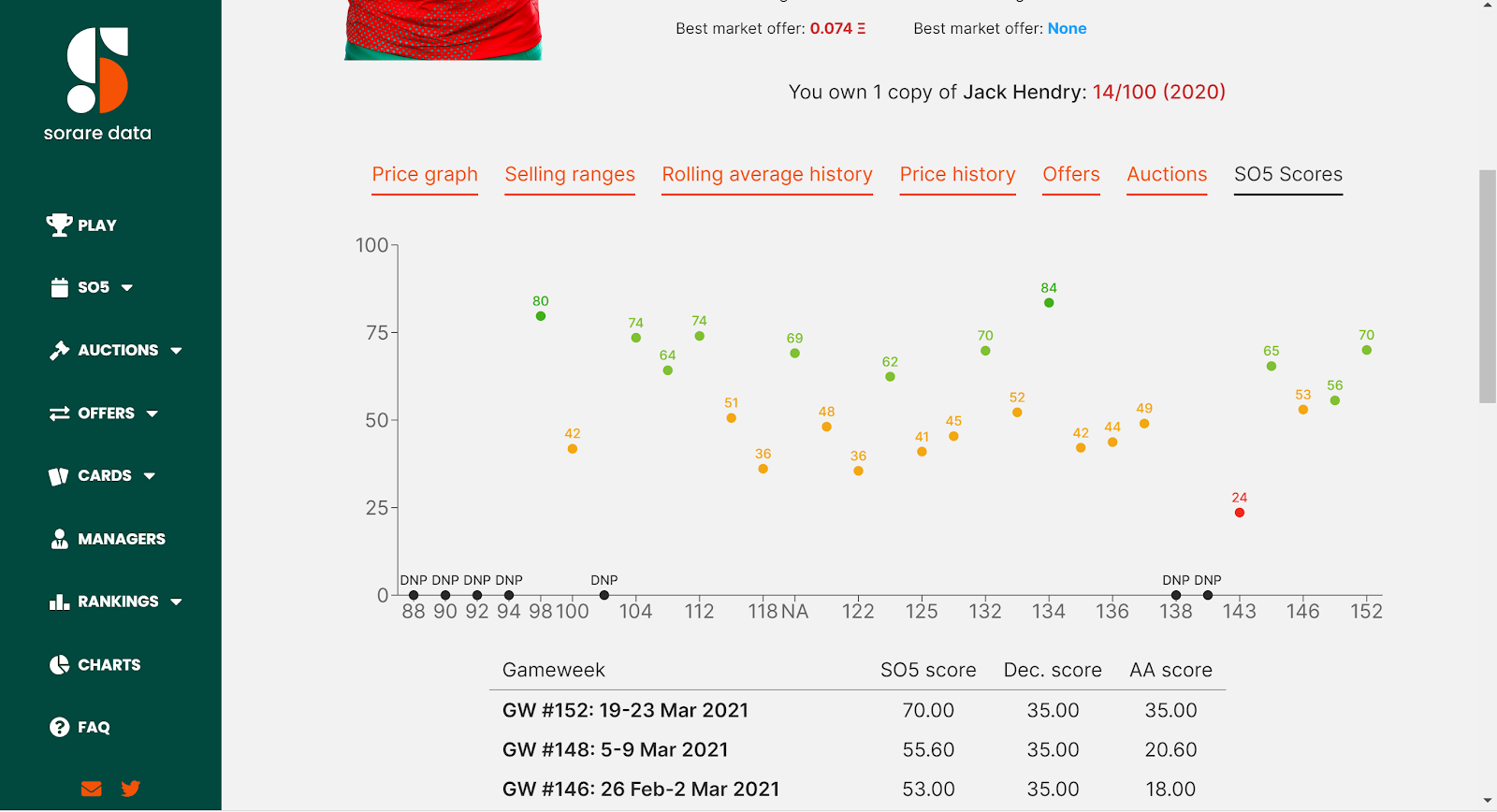 Since breaking into the first team at the start of the season Hendry played every game until a small injury at the end of January. He's been back at full fitness for a few full games now and his scores are showing it, he even got a call up to the Scottish National team for the recent break.
Mark Diemers
Position: Midfielder
Club: Feyenoord
Price: 0.056 ETH (£65)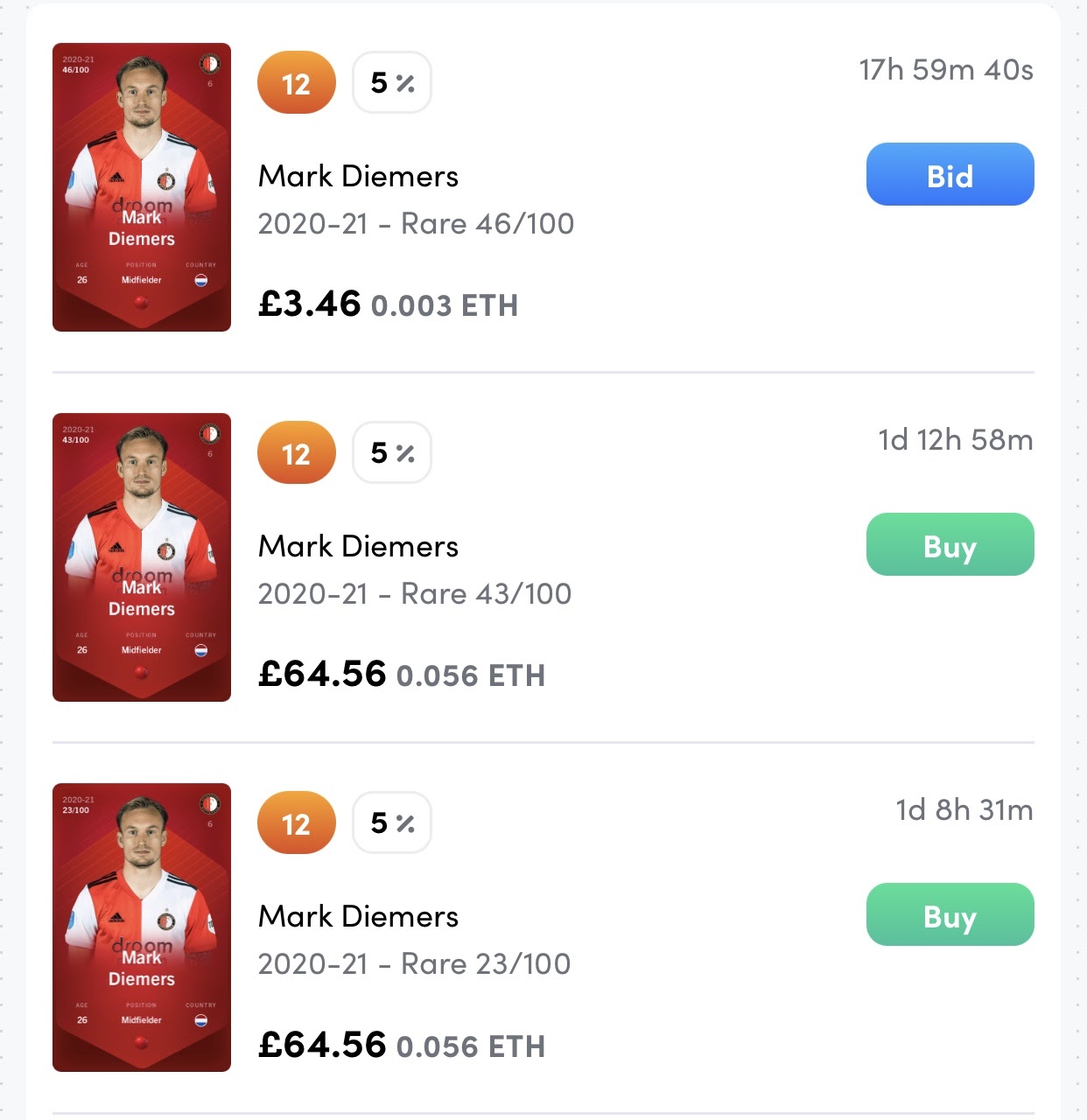 A great tactic if you're working on a budget is to look for players who are currently injured and close to returning. Normally you can uncover some bargains who will hit really high scores for you when they return.
Diemers is the perfect example of this. The 27 year old has played 23 games this season, starting in 20 of them, and is a mainstay of the Feyenoord team. However with a small hamstring injury currently keeping him out until early to mid April he looks less attractive to potential buyers.
If you take a look back at his scores on Soraredata then you can see how much quality you are getting for your money. Any player with a few scores over 80 is worth looking into and with three goals and three assists so far this season Diemers is no stranger to a big performance. Even on a quiet day he contributes a decent base score of 45 to 55 which is essential if you want to hit the ethereum thresholds in division 4.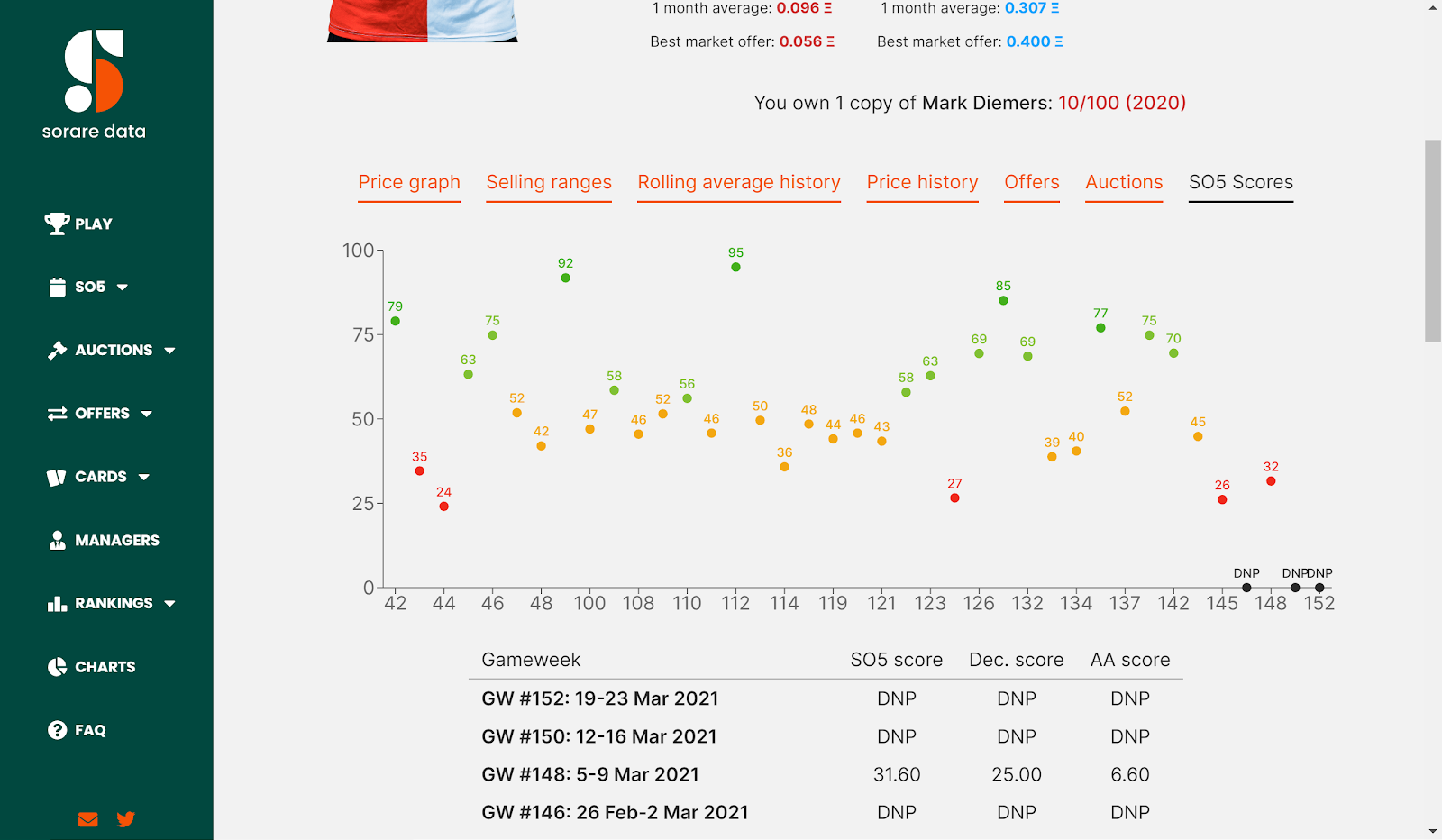 His price peaked at over 0.2 ethereum when he was fit so now is the best time to pick him up on the cheap!
Jørgen Larsen
Position: Forward
Club: Groningen
Price: 0.215 ETH (£251)
Other than goalkeepers a forward is probably the most expensive player to pick up, and to get a proven goalscorer it is hard to find anyone who would not take up almost the entire budget alone.
However I think one bargain striker on the market is Jørgen Larsen. This young Norwegian has the same amount of goal contributions as Joao Felix this season but cost £1800 less. During the recent market boom a lot of strikers rose to unimaginable value and never came back down to the more affordable prices, however Larsen already cost 0.15 ethereum at his lowest value before rising to a staggering 0.44. To have now fallen back to 0.215 is a huge opportunity for anyone looking to pick him up.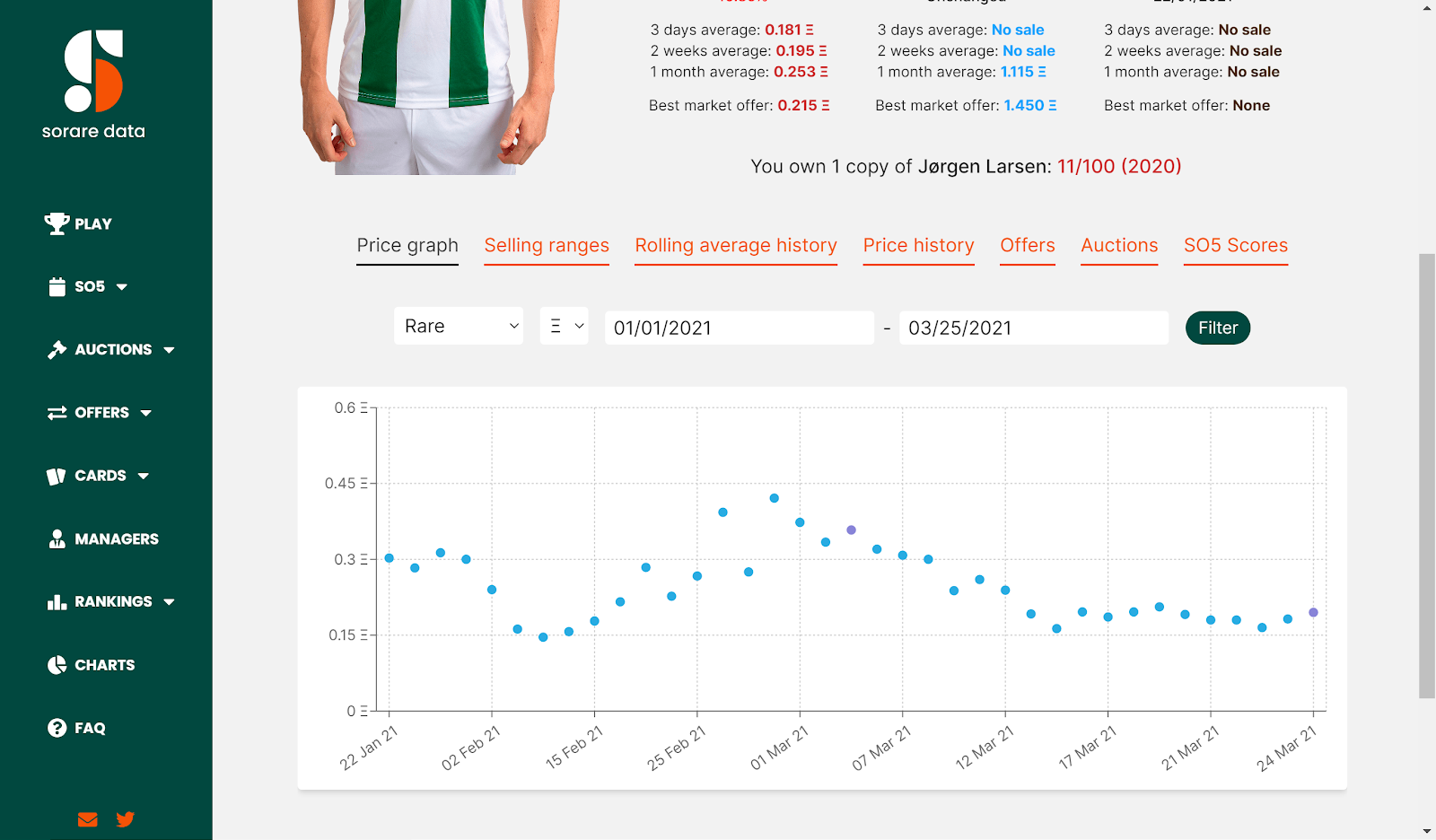 The probable reason for this is, yet again, another small injury which has kept him out of the last few games. He'll be coming back after the international break and whilst his scores aren't outstanding they are consistent, which is better than a lot of strikers offer. A score in the 70's puts so much less pressure on your other players to perform well enough to pick up ethereum rewards. With 9 goals and 5 assists in the Eredivisie at just 21 years old you will get utility from this card for over a decade. Surely in that time he will repay the £250 spent on him in rewards alone.
Anas Tahiri
Position: Midfielder
Club: RKC Waalwijk
Price: 0.077 ETH (£90)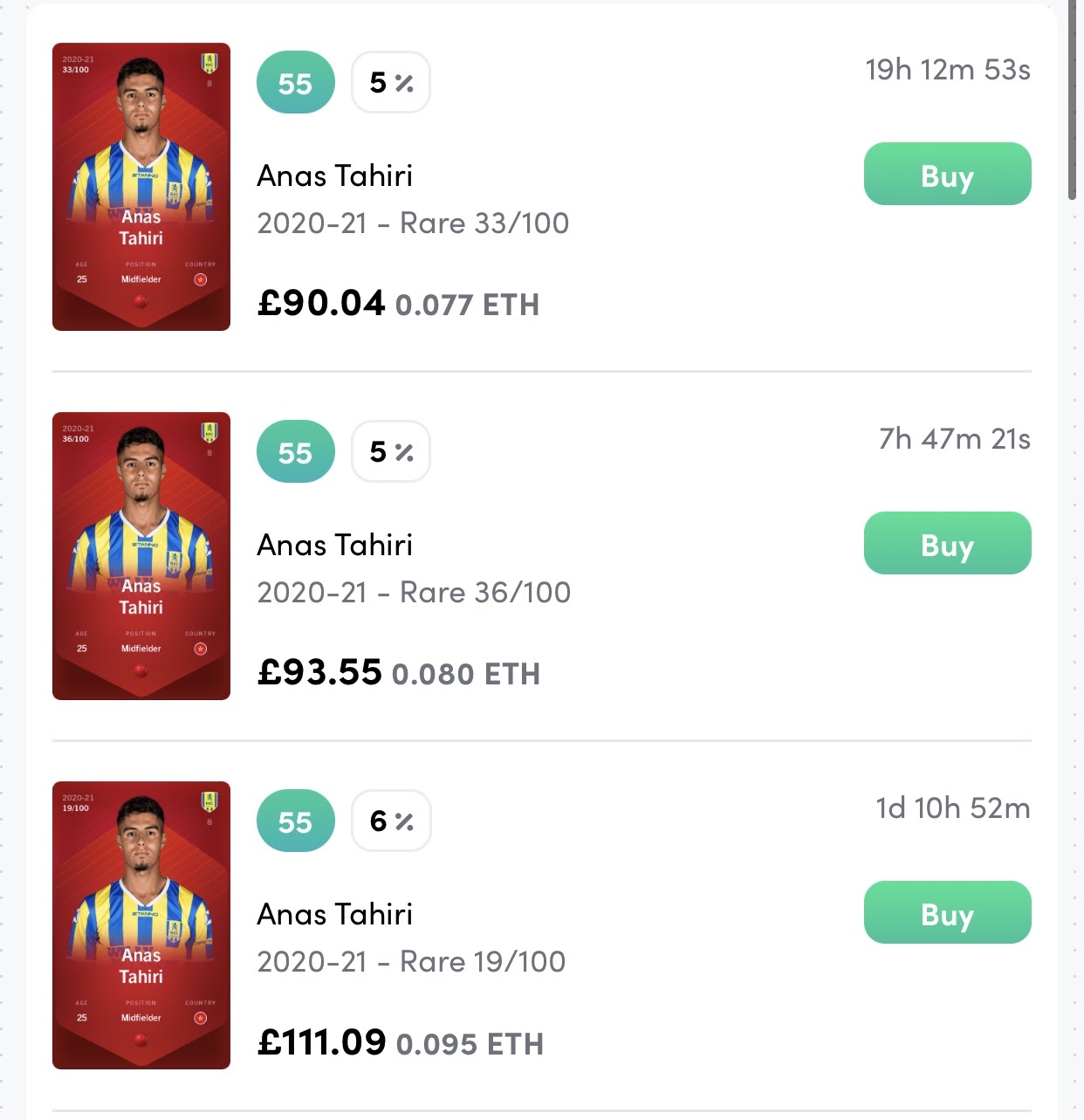 I wanted this extra slot to be filled by a solid midfielder who could bring a score of at least 45-50 to your team almost every game, with the potential for higher scores with goal contributions. In my opinion this is the best way to approach Global D4 and allows for likely ethereum wins with the occasional challenge for a card reward.
For this role I've chosen Tahiri who has started all but one game this season, captaining his side for about two thirds of those games. He will be your team's Mr Consistent, always ensuring your other players have no slack to pick up.
With a goal and four assists he is also capable of stealing the show some weeks with scores above 70, an 87 being particularly notable. Whether his team win, lose or draw he will always put a good shift in though. His only two red scores this season have come when he played less minutes and if a player only lets you down twice a season then that's not a bad investment.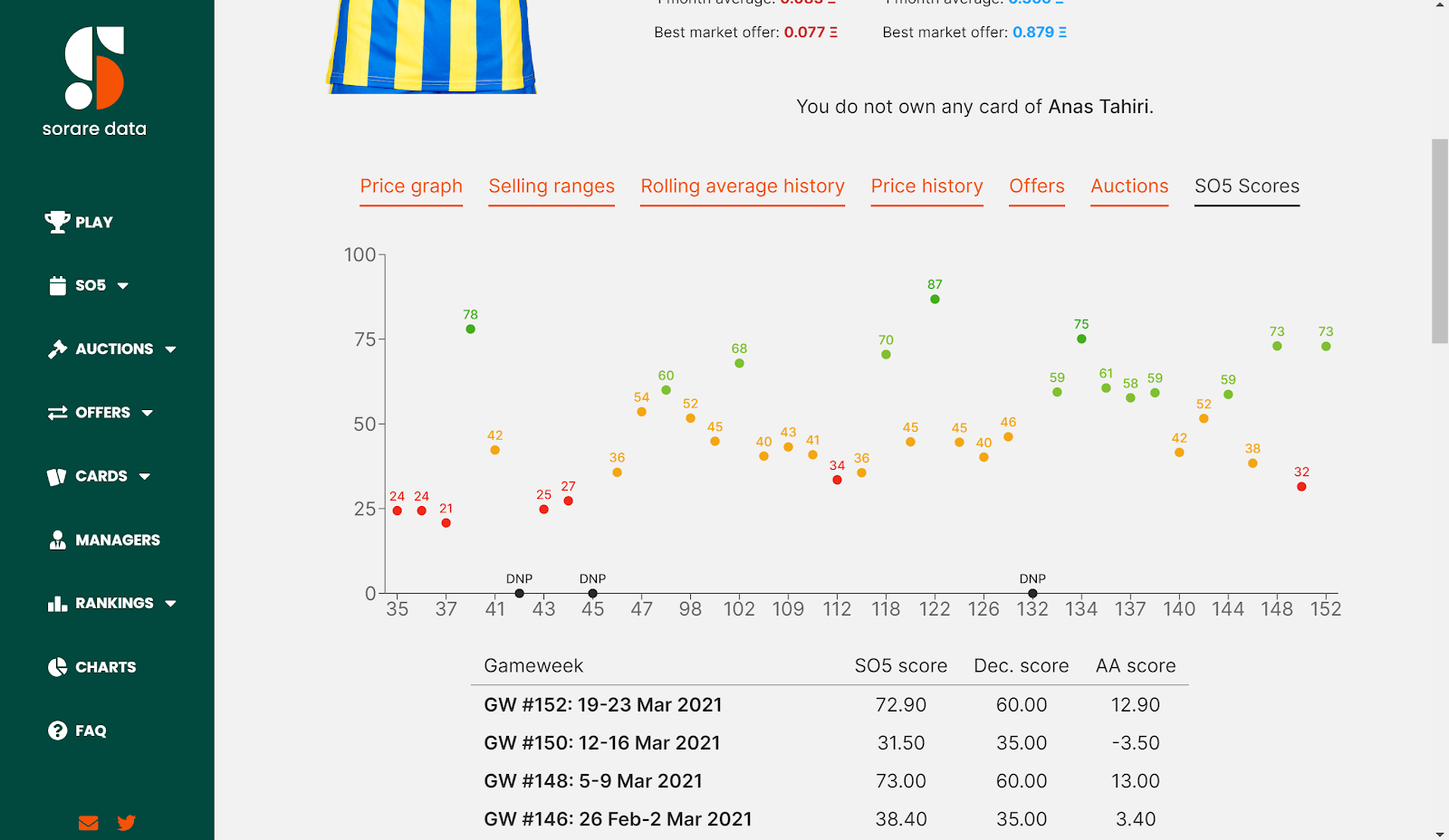 Total: 0.414 ethereum (£481)
In summary at a grand total of £481 this is a great starter team to start winning rewards with until the European seasons end. You have reliable players in each position and a proven goalscorer up front. I'd say that on most weeks this team plus a common keeper will score at least 220 points, gaining you ethereum each gameweek. This can then be reinvested to improve the team and challenge for card rewards on a more regular basis.
Special Sign-Up Offer
New Player Deal - Sign Up to Sorare now through us & Get a Free Card & VIP Access after 5 cards bought on auction.
Sign Up To Sorare Now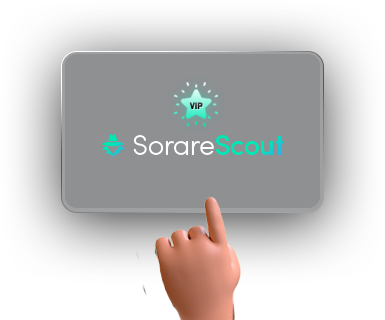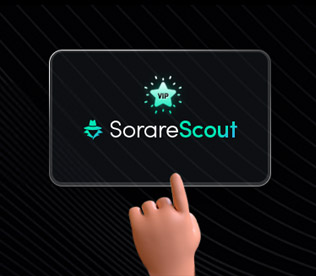 The content on this site is funded by the Sorare Affiliation platform. If you sign-up or refer a friend please consider doing so through our site. As a thank you will reach VIP status.
Read More About VIP Access