Best Sorare MLB players | Positions explained
Posted 28th December 2022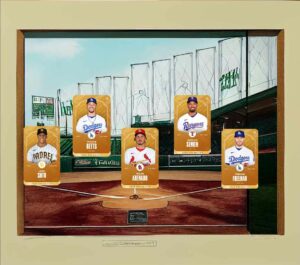 Our goal in this article is to explain the positions on Sorare MLB cards and show you who is scoring the most points at each position.
This guide will help you select the players who will boost your Sorare lineups and give you an edge over your competitors.
As the MLB season nears its end, we have compiled a list of the top 5 players at each position. To give you a more comprehensive picture, these scores are based on average Sorare scores from the season so far (2nd Sep 2022). Additionally, you can see the average Sorare scores of the last 15 games and 40 games to gauge their recent performance.
---
Hitters
Those who are facing the pitcher are called batters or hitters. Baseball batters have three main goals: get on base, drive runners home, or advance runners along the bases so they can be driven home by others. However, their methods and strategies differ.
| | | | | |
| --- | --- | --- | --- | --- |
| Position | Name | Last 15 | Last 40 | 2022 |
| 1st | Shohei Ohtani  | 16 | 14 | 14 |
| 2nd | Aaron Judge | 11 | 14 | 12 |
| 3rd | Mookie Betts | 14 | 11 | 11 |
| 4th | Paul Goldschmidt | 10 | 11 | 11 |
| 5th | José Ramírez | 10 | 9 | 10 |

A model of consistency, Goldschmidt entered the season having hit at least 30 home runs in each of the last four full seasons, and six times during his career. Make that five and seven as he's already belted 33 home runs, with 105 RBI and a league-leading .330 batting average. Goldschmidt also leads the league in on-base percentage, slugging percentage and OPS and is the front-runner for NL MVP.  He is a six-time All-Star and four-time Gold Glove Award winner. Although he will turn 35 on September 10, Goldschmidt is showing no signs of slowing down and should be a major force at the plate again in 2023. See his latest price 
---
Starting pitcher
Starting pitchers are the first pitchers for each team in a baseball game. Starting pitchers are expected to pitch for a significant portion of the game
After pitching a game, professional baseball starting pitchers usually rest three, four, or five days before pitching in another game. As a result, most professional baseball teams have four, five, or six starting pitchers. 
| | | | | |
| --- | --- | --- | --- | --- |
| Position | Name | Last 15 | Last 40 | 2022 |
| 1st | Jacob deGrom | 35 | 35 | 35 |
| 2nd | Max Scherzer | 24 | 28 | 30 |
| 3rd | Shane McClanahan | 31 | 21 | 30 |
| 4th | Justin Verlander | 27 | 30 | 29 |
| 5th | Sandy Alcantara | 28 | 25 | 29 |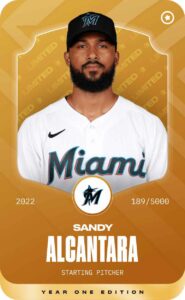 Alcantara is in his six MLB season and is putting it all together at the age of 26. He led the league in losses in 2019 and went 9-15 last season, but still racked up the strikeouts with a solid ERA below four. He's gone to a new level this season, posting a record of 12-7 with an ERA of 2.37. Alcantara leads the league in games started, complete games and innings pitched with 190 2/3. In addition, he has struck out 170 and is well on his way to eclipsing 200 strikeouts for the second straight season. The sky's the limit for Alcantara, who is just now entering his prime. See his latest price
---
Relief Pitcher
A relief pitcher is a pitcher who enters the game after the starting pitcher is removed due to fatigue, ineffectiveness, injury, ejection, or for other strategic reasons, such as inclement weather delays or pinch hitter substitutions.
Since starting pitchers throw so many pitches in a game, they often rest several days before returning to the game, but relief pitchers tend to be more flexible, pitching in more games with shorter periods between appearances, but throwing fewer innings.
| | | | | |
| --- | --- | --- | --- | --- |
| Position | Name | Last 15 | Last 40 | 2022 |
| 1st | JP Sears | 16 | 14 | 14 |
| 2nd | Mike Mayers | 11 | 0 | 13 |
| 3rd | Edwin Díaz | 10 | 13 | 12 |
| 4th | Nick Martinez | 8 | 8 | 12 |
| 5th | Taylor Hearn | 13 | 10 | 12 |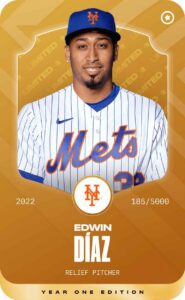 Diaz is in his seventh MLB season and has been a force out of the pen throughout his career, leading the league in saves with 57 in 2018 with the Seattle Mariners. The only blip on the radar was a 2-7 record and 5.59 ERA in 2019. He's putting together his best overall season this year, posting an ERA of 1.52, 29 saves and has allowed only 31 hits in 53 1/3 innings. In addition, he's struck out 101, nearly two batters per inning.  Barring serious injury, Diaz will be a top-notch closer for years to come. See his latest price
---
Corner Infielder
A corner infielder is a player who plays at first and third base.
In addition to fielding balls hit and bunted down the third base line, the third baseman can also attempt to reach balls hit between second and third base. The third baseman must also have a strong arm since the throw from his position to first base is the longest on the infield.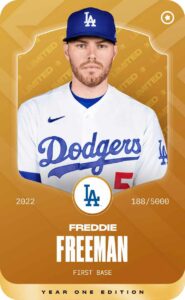 After 12 excellent seasons in Atlanta, Freeman took his big bat to Los Angeles. He continues to rack up the numbers, hitting a career-best .322 and is leading the league in hits (165) and doubles (43).  In addition, he has 16 home runs and is on pace to pass 20 home runs for the 9th time in his career.  The NL MVP during the COVID-19 shortened 2020 season, Freeman likely won't win it this year, but will continue to be in the mix as one of the most productive bats in the league. There is still plenty left in Freeman's tank at age 32. See his latest price
---
Middle Infielder
Middle infielders include second baseman and shortstop. Second basemen field balls hit between first and second base. Between second and third base, the shortstop does the same. Shortstops and second basemen are also responsible for tagging runners who attempt to steal second base. A shortstop must reach the ball faster and throw harder than a second baseman because he has a longer throw to make to first base. It is often considered more important for a middle infielder to have good defensive skills than a good bat because of the variety of skills they are required to possess.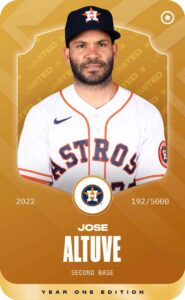 Altuve is putting together a Hall of Fame resume. In 12 seasons with the Astros, he has made eight All-Star teams, a league MVP, has led the league in hits four times and in batting average three times. He was instrumental in the Astors winning the World Series in 2017. Altuve continues to flourish at the plate this season at the age of 32. He's hitting .286 with 22 home runs, 31 doubles, and 22 stolen bases. He's reached 20 home runs in a season for the fifth time. Expect Altuve to surpass 2000 career hits, 1000 career runs, and 200 career home runs in 2023. See his latest price
---
Outfielder
Outfielders are one of the three defensive positions in baseball, located farthest from the batter. Among these are the left fielder, the center fielder, and the right fielder. Outfielders are responsible for catching fly balls and ground balls, returning them to the infield for outs or before runners advance. A baseball outfielder normally plays behind the six players in the field.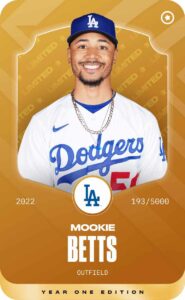 Betts won the AL MVP in 2018 when he hit a career-high 32 home runs and led the league in batting average at .346.  He has already reached 32 home runs and should easily set a new personal best in that category. Betts led the league in runs scored twice and currently is the league-leader this season with 101 runs scored. In his 9th MLB season, Betts has been an All-Star six times and five times won the Gold Glove Award.  Already with 210 career home runs, Betts is in his prime and should be very productive for the next four of five seasons to come. See his latest price
---
1st Baseman
On a baseball team, a first baseman fields the area near first base, the first of four bases that a base runner must touch for a run to be scored. It is the first baseman's responsibility to make most of the plays at that base.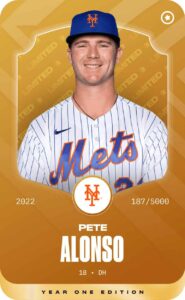 Alonso jumped onto the scene, blasting a league-best 53 home runs on his way to NL Rookie of the Year in 2019. At 16 home runs in 57 games in the shortened 2020 season, Alonso reached 37 home runs last season and is well on his way to reaching that mark again this year. One of the most feared power hitters in MLB today, Alonso has 32 home runs, a league best 106 RBI and a career-high .270 batting average this season.  The great thing for the Mets and the terrifying thing for the rest of the league is that Alonso is only 27 years old and should only be reaching his prime. Expect many more 30 and 40-plus home run seasons over the next five to ten years. See his latest price
---
2nd Baseman
Second baseman is a fielding position between second and first base in baseball. Second basemen need quick hands and feet, a quick release of the ball, and the ability to pivot on a double play. Second basemen are usually right-handed
Having a good range is crucial for a second baseman since they must field balls closer to the first baseman who may hold runners on, or move toward the base to cover. When a batted ball is hit to right field, the second baseman goes out towards it for a relay. In the modern game, second base is mostly a defensive position, but there are also some great hitters at second base.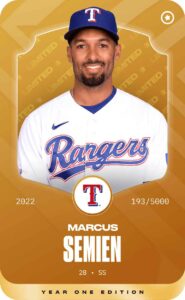 Semien's career-best in home runs over his first six MLB seasons was 27, but blasted 33 in 2019 and 45 last season to go along with 102 RBI. Never a high average hitter, Semien makes up for it with uncanny power at a position not known for producing power hitters.  He might not ever reach 45 home runs again in a season, but Semien has 22 doubles, 20 home runs, 65 RBI, and a career-high 20 stolen bases.  The concern moving forward is that at age 31, we might be approaching the end of Semien's prime. Expect another 20-home run season in 2023, but don't be surprised to see production slowly declining over the next few seasons. See his latest price
---
3rd Baseman
The third baseman plays in the vicinity of the third-base area, facing home plate with the base in front of him and to the right.
A third baseman's responsibilities on defense include fielding ground balls, line drives, and pop flies around the bag. With their close proximity to home plate, they need strong, accurate arms to throw across the diamond and quick reaction times. Furthermore, third basemen must be prepared to field bunt attempts, as batters often attempt a "bunt base hit" by bunting down the third-base line.
A third baseman has less ground to cover than a shortstop playing beside him, so their lateral range tends to be limited.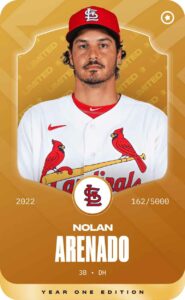 Arenado is the best third baseman in the league and will be in the mix for top third baseman in league history when his career is over. He already is third all-time among third basemen in Gold Glove Awards with nine, trailing only Brooks Robinson (16) and Mike Schmidt (10). At the plate, Arenado his 36 doubles and 28 home runs this season. He's almost a lock to reach 30 home runs for the seventh season and has led the league in home runs three times. At age 31, there is no reason to believe Arenado can't put up similar numbers for several more seasons and challenge Schmidt as the best offensive third baseman in MLB history. See his latest price
---
Shortstop
Among the most demanding defensive positions in baseball, shortstop is the fielding position between second and third base. It was traditionally occupied by defensive specialists who struggled at batting and were usually placed at the bottom of the order. In today's game, many shortstops are able to hit well and are placed in the top of the lineup. 
There are more right-handed hitters in baseball than left-handed hitters, and most hitters pull the ball slightly, so the shortstop receives more hit balls than any other position.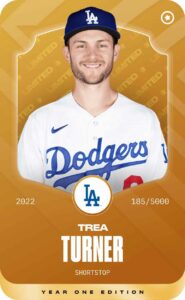 Turner has reached the .300 mark in batting average three straight seasons and is well on his way to a fourth, hitting .306 over the first 130 games this season. He led the league in hitting, stolen bases, and hits last season, while finishing fifth for NL MVP.  In addition to racking up the hits, Turner has developed some power, hitting 28 home runs last season and 18 so far this season.  Turner is the most consistent shortstop in the league at the plate and that trend should continue since he is just now in the prime years of his career at 29-years old. See his latest price
---
Catcher
Catcher is a position in baseball. In order to receive the ball from the pitcher, the catcher crouches behind home plate, facing the (home) umpire. A catcher must master many other skills in addition to this primary duty to be successful at the position. Catchers are similar to wicket keepers in cricket, but wicket keepers are increasingly known for their batting abilities in cricket.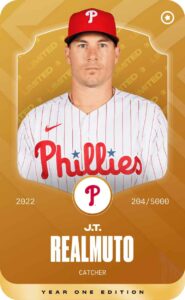 Realmuto flourished in his first season with the Phillies in 2019 after five seasons with the Marlins. He hit a career-best 25 home runs and 83 RBI. While he hasn't approached those numbers since, he's still the best all-around catcher in baseball. After a slow start this season, Realmuto has picked it up, particularly over the two-month period when the Phillies were without Bryce Harper. Realmuto is hitting a solid .272 with 14 home runs, 67 RBI, and a career-high 17 stolen bases. Realmuto will turn 32 before the start of next season, which is not young for a catcher. However, Realmuto keeps himself in prime condition, so production for the next few seasons should be consistent. See his latest price
---
Right Fielder
Right fielders in baseball are responsible for defending the right side of the outfield from the foul line to right-center field, as well as hitting the ball when their team is batting.
Right fielders back up second base on any ball thrown from left side, such as shortstop, third base, or foul lines. In a rundown between third base and home, the right fielder backs up first base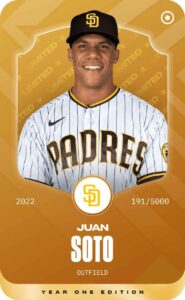 Soto was second in NL Rookie of the Year voting in 2018 and busted out to 34 home runs and 110 RBI the following season. During the COVID-19 shortened 2020, Soto led the NL in batting average at .351, to go along with on-base percentage, slugging percentage, and OPS.  Already a star at age 22, Soto hit .313 with 29 home runs and a league-leading 145 walks last season. Although his batting average has dipped to .246 this season, Soto has been very productive with 24 home runs and 115 walks, despite missing time due to injury. At age 23, Soto should be a star with the potential to win several MVP awards over the next decade. See his latest price
---
Center Fielder
When viewed from home plate, the center fielder covers the middle of the outfield.
Unlike the corner outfielders, center fielders have more ground to cover than either of the corner outfielders. As center fielders often need to throw to home, third, and second in order to prevent baserunners from advancing, they ideally should also possess strong throwing arms.
If two outfielders are attempting to field the same ball, the center fielder is considered the "captain" of the outfield. In such situations, center fielders often yell to call off corner outfielders.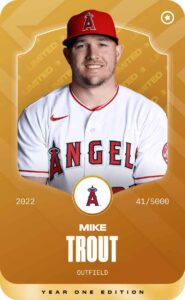 It didn't take long after Trout's arrival to MLB in 2011 to be compared to Mickey Mantle. A five-tool player, Trout won the AL Rookie of the Year and three MVP awards. He has reached 30 home runs six times and has led the league in OPS four times. A fear moving forward with Trout, who turned 31 years old last month, is that he's played in only 132 games since the beginning of last year due to injury. When healthy, Trout puts up monster numbers. He has 28 home runs in only 92 games this season. Should he remain healthy, Trout should have several more excellent seasons in him and perhaps runs at another MVP or two. See his latest price
---
Left Fielder
An outfielder who defends left field is known as a left-fielder. As with all positions on the field, left-fielders have multiple responsibilities during games. Among the left-fielder's
defensive duties are backing up the third baseman on pick-offs and steals, and helping the center-fielder catch pop-flies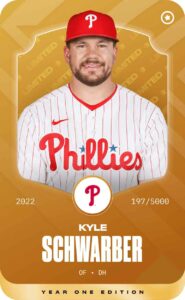 What you see with Schwarber is what you get. He swings for the fences every time up and when connects, hits some of the farthest balls in all of MLB. His batting average suffers, as seen in his career mark of .232 and has struck out over 100 times in a season five times. This season, Schwarber is leading the league in strikeouts with 169, but is on top in the NL in home runs with 36. At age 29, Schwarber should be able to keep blasting balls out of the park with regularity for the next several seasons, but don't expect much more. See his latest price
---
Those are the average scores for each position on Sorare MLB as of 2nd Sep 2022. This season ends on 3 Oct, so there may be a few changes to these top five as the season ends, but this should give you some idea of who is in the top scoring positions and ultimately give you an advantage going into the MLB season in 2023.
---
Ready for your next Sorare challenge? Checkout our Sorare NBA site and learn how to master the world of fantasy basketball with our guides, scout reports and tips and tricks.
Special Sign-Up Offer
New Player Deal - Sign Up to Sorare now through us & Get a Free Card & VIP Access after 5 cards bought on auction.
Sign Up To Sorare Now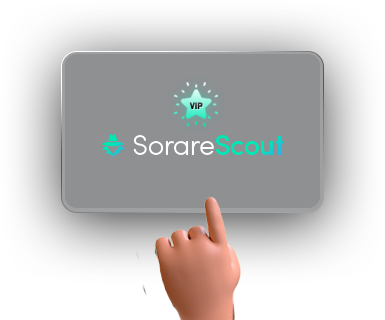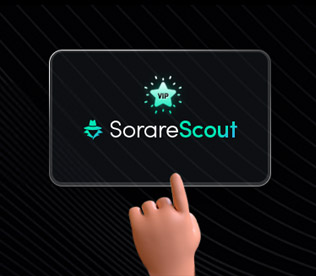 The content on this site is funded by the Sorare Affiliation platform. If you sign-up or refer a friend please consider doing so through our site. As a thank you will reach VIP status.
Read More About VIP Access